Sébastien Ogier and Julien Ingrassia produced a heroic effort in their C3 WRC on the final leg to win the Rallye Monte-Carlo by the narrowest margin in the history of the event. A winning margin that reflected the intensity of the fight and the performance delivered, a performance that saw Citroen Racing claim its hundredth WRC win at the start of the year in which the brand celebrates its centenary.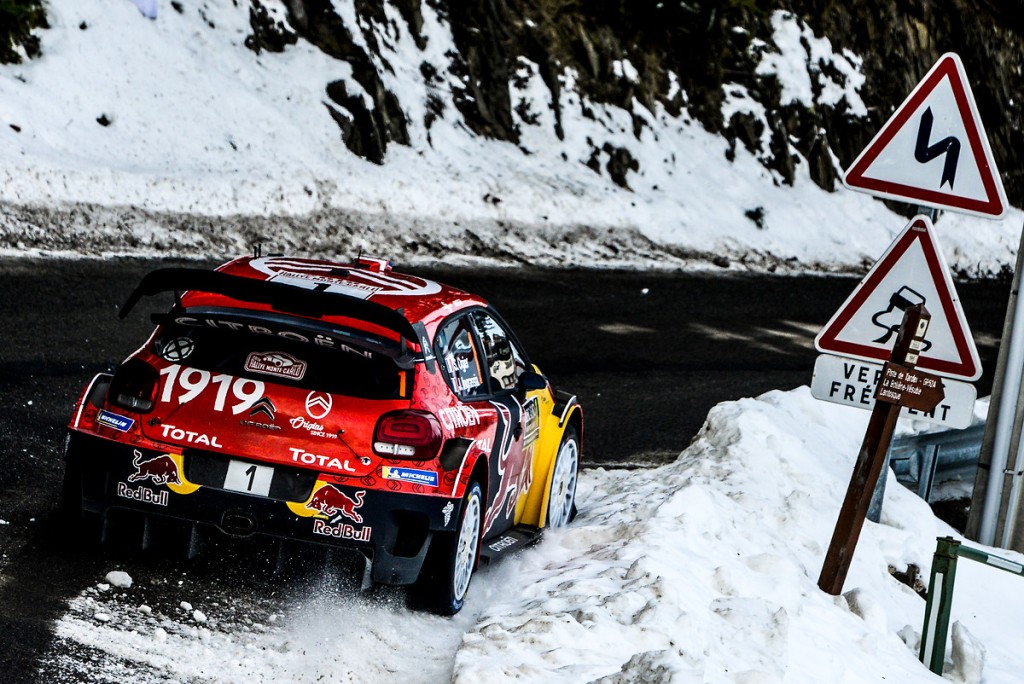 Tackling the last 13.58 kilometres of a Rallye Monte-Carlo held over some 324 kilometres with a lead of just four tenths of a second calls for one hell of a cool head
And never more so when your concentration has been somewhat disturbed by a throttle issue. With six world titles to their names, Sébastien Ogier and Julien Ingrassia have long since mastered the art of managing the pressure in this kind of situation and the adrenalin pumping through their systems, and they demonstrated it once again. Second fastest on the final stage between La Cabanette and the Col de Braus, the Frenchmen sealed their seventh overall win and their sixth in a row in the Principality by just 2.2s, on their first competitive outing the C3 WRC. The result also means the pair now jointly hold of the record for the number of wins at this prestigious rally and confirms just how much Sébastien and Julien are already at one with their new car.
French National Anthem for @Citroen, @SebOgier and #JulienIngrassia! pic.twitter.com/zxrE6NUyyJ

— Citroën Racing (@CitroenRacing) January 27, 2019
"We certainly weren't taking anything for granted. The final leg, in particular, was really stressful and difficult with our minor throttle issue, which meant the car kept on accelerating, even under braking. We got some good advice from the team and were able to perform some makeshift repairs on the road section. We then pushed really hard and in the end, it worked out!", Ogier said.
"It was an incredibly intense weekend. It was a non-stop battle, but we managed to come away with the win. Obviously, we're very proud of this result in our first race with the C3 WRC, especially because, as I've often said, this rally is the one that is the most special for me. And it also means we can celebrate Citroen's centenary in style. In other words, we couldn't have hoped for a better start on our first race back with the team!"
Ingrassia said the crew's state of mind as they waited to start the final stage was determined
"Before the final stage, our engineer asked me if he could do anything for us and I just suggested he should light a candle for us, and perhaps prepare the tow-truck and straps as well, you never know… Because we had no intention of messing about! I think I aged a few years over the course of Sunday morning's loop of four stages, it was so tense", he added.
"Once we were underway, we pushed really hard whilst not making any mistakes, which is pretty exceptional from Seb, really, on his first rally in the C3 WRC. And yet, once we passed the finish line, we didn't know quite what to think. There wasn't much excitement at the stop control and then on the left, I saw Seb's dad, who had a broad smile on his face. That was when I knew we'd won. Seb, however, didn't notice at the time, he had to look down to get confirmation. He realised we'd won and then there was quite a bit of emotion in the car."
Meanwhile, although they retired on Saturday morning after an engine issues, Esapekka Lappi and Janne Ferm had nonetheless made a promising start to the race, holding a brilliant fourth place on Thursday evening.
?? ? What an amazing feeling!#WRC #C3WRC #100TH pic.twitter.com/C0VMIT9dRg

— Citroën Racing (@CitroenRacing) January 27, 2019