After the "warm-up" on the first Dakar 2019 stage, the second stage ran for 552km including a 342km long special with the cars leading the way. Jakub Przygonski (Orlen X-Raid Team) struggled early on with Red Bull privateer Sébastien Loeb pushing reigning champion Carlos Sainz (X-Raid Mini JCW Team) hard for the lead. Former winners Giniel de Villiers (Toyota Gazoo Racing SA) and Stéphane Peterhansel (X-Raid Mini JCW Team) both performed well before the Frenchman got stuck with team-mate Cyril Despres towing Peterhansel out. Loeb forged a strong lead, then held off Nani Roma late on to win by eight seconds.
Nine-time WRC champion Loeb said: "Yes, it was a good stage for me with no problems. We tried to take a good rhythm and to keep it."
Première victoire d'étape sur le @dakar 2019 ! On vous avait promis qu'on attaquerait aujourd'hui ? Plus d'infos à venir. #Dakar #RedBull #Bardahl #StarTerre #BFGracing #CroisiEurope #FrayMedia #Sparco pic.twitter.com/vTpoB5YFMu

— Sébastien Loeb (@SebastienLoeb) January 8, 2019
– "On va où ?!"
– "Tout droit @SebastienLoeb !"
– "Sûr ?"
– "Oui oui … si tu vas tout droit, on gagne ?"

? Victoire dans l'Étape 2 du @dakar #Dakar #RedBull #Bardahl #BFGoodrich #Sparco #Starterre #CroisiEurope #FrayMedia pic.twitter.com/Un37XXunFO

— Daniel Elena (@DanosElena) January 8, 2019
The Toyota of De Villiers leads Bernhard ten Brinke (Toyota Gazoo Racing SA) by 28 seconds overall. Frenchman Loeb is one minute and 56 seconds behind in fifth and Sainz 2:28 off the pace. Stage 1 leader Nasser Al-Attiyah (Toyota Gazoo Racing SA) struggled to end the day 3:26 back overall with Despres two seconds further back and Peterhansel regaining some ground to trail by 13:55.
Thirteen-time Dakar winner Peterhansel, 53, revealed: "We started with some electrical problems inside the car: no microphones, no air-conditioning, no wipers, nothing was OK. I lost my concentration a little bit and after I got stuck in a really bad place. We are happy because Cyril pulled us out."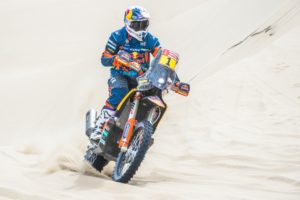 Reigning bike champion Matthias Walkner (Red Bull KTM Factory Team) fought back brilliantly to win the second stage from Ricky Brabec (Monster Energy Honda Team 2019)
The American was the fastest rider to the first 50km mark. Walkner cut the gap to just one second after 100km. Brabec pulled clear again, only for the Austrian to roar back to win by 22 seconds with third-placed Joan Barreda (Monster Energy Honda Team 2019) retaining his overall lead by 1:31.
Walkner, 32, said: "The cars were difficult to pass in places, but the most difficult was the fesh-fesh (fine sand) getting really loose. Sometimes with the bikes it was so deep that you can't miss some stones, so it was quite dangerous but fun."
? STAGE 2 – BIKES ?️?

1. @MatthiasWalkner
2. @rickyB357 +0'22"
3. @joanbangbang88 +1'41"

+ info ➡️ https://t.co/igIYTtsEsQ #Dakar2019 pic.twitter.com/jH1OXVen42

— DAKAR RALLY (@dakar) January 8, 2019
Russian Eduard Nikolaev (Kamaz-Master) was a class above in the trucks
He won by two minutes and 39 seconds over Gerard de Rooy (Petronas Team De Root Iveco). That left him with a 4:23 lead over the Dutchman overall.
Chilean Chaleco López (South Racing Can-Am) grabbed his first stage win in his new SxS category. He held off a fast charging Brazilian Reinaldo Varela (Monster Energy Can-Am), who retained the overall lead by 1:08.
Much like Stage 1, Argentine Nicolás Cavigliasso (Drag'On Rally Team) dominated the quad category again. He had a huge 11:18 win from compatriot Gustavo Gallego (Gustavo Gallego Competicion) that sees him 21:14 clear overall.
Wednesday's Stage 3 will see the bikes and quads start out first from San Juan de Marcona to tackle 467km of liaison and a 331km special into Arequipa.