A true American hero will soon be screeching into stores with the arrival of the LEGO Creator Expert Ford Mustang from March 1.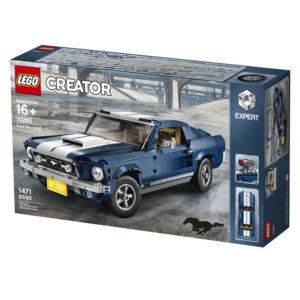 The new Creator Expert: Ford Mustang is the work of a partnership between Ford and LEGO® Group
The base for the model is a 1967 Fastback. It consists of up of 1,470 pieces. The nostalgic muscle car comes complete with working steering, dark-blue bodywork, white racing stripes as well as bonnet scoop. It also has printed Mustang grille badge, GT emblems, and five-spoke rims with road-gripping tyres.
The model measures over 10 centimetres high, 34 centimetres long and 14 centimetres wide. It will give budding builders the chance to customise their all-American icon to their own specification. That is possible thanks to a collection of optional add-ons. Meanwhile, owners will retain its instantly recognisable symbol of the Mustang pony logo.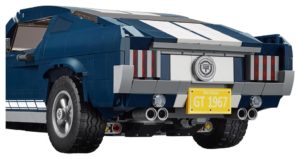 Customisation options include a supercharger, rear ducktail spoiler, beefy exhaust pipes, front chin spoiler and a nitrous oxide tank for an authentic muscle car build experience
"There are few cars on the road that are as instantly recognisable as the Ford Mustang, and it's exciting to see the iconic car's combination of design and heritage come through in this LEGO set," said Roelant de Waard, vice president, Marketing, Sales & Service, Ford of Europe.
The authentic replica model also allows owners to store items in the trunk. They can also lift the hood to reveal a detailed big block 390 cubic inch (6.4-litre) V8 engine with battery, hoses and air filter detailing.
The rear axle of the car can be lifted for an extra-mean look. The doors open. Meanwhile, the roof panel is removable to give access to the detailed interior with classic seats, radio, working steering and a mid-console gearshift.
A printed mustang grille badge, GT emblems and a selection of license plates add the final touches to this extraordinary LEGO Creator Expert model.
"The Ford Mustang is one of the most iconic, symbolic cars in history – and to bring this fan favourite muscle car to life in brick form, with this level of customisation, has been exhilarating," said Jamie Berard, Design Lead on LEGO Creator Expert. "We can't wait to see our LEGO and Ford Mustang fans' own creations when they get their hands on this new set."
The LEGO Creator Expert: Ford Mustang is available directly from LEGO stores and shop.LEGO.com/fordmustang as of March 1, 2019.