Twenty-nine points in 2016. Forty-seven points in 2017. Ninety points in 2018, and there's still one race to go. That is Haas F1 Team's trajectory since becoming the first American team in 30 years to join the FIA Formula One World Championship.
Haas F1 Team will close out the best year in its still young history
The third-year team trails fourth-place Renault by 24 points but holds a 28-point advantage over sixth-place McLaren. After back-to-back eighth-place finishes in the 2016-2017 constructors' standings, 2018 has proven to be Haas F1 Team's coming-out party, with the scrappy squad regularly challenging, and then beating, established Formula One teams with decades of experience and a phalanx of specialized personnel.
In 12 of the 20 races run thus far in 2018, Haas F1 Team has scored points. At no time did the organization go more than two races without a points-paying result, and on four occasions drivers Romain Grosjean and Kevin Magnussen scored a double-points finish, which includes the series' most recent race, the Brazilian Grand Prix at Autódromo José Carlos Pace in São Paulo where Grosjean and Magnussen finished eighth and ninth, respectively.
The duo's best result in 2018 came in the ninth race of the season at the Red Bull Ring with a haul of 22 points as Grosjean finished fourth with Magnussen right behind in fifth in the Austrian Grand Prix. Grosjean's fourth-place drive remains the best result for Haas F1 Team in its three-year tenure, and with Magnussen coming home in fifth, it marked the best collective result for the American outfit, and it came in its milestone 50th grand prix.
Haas F1 Team now has 61 grands prix under its belt, with the Abu Dhabi Grand Prix next on the docket.
Team principal Guenther Steiner previews the Abu Dhabi Grand prix.
After some tough race weekends in the United States and Mexican Grands Prix, how fulfilling was it to finally get a double-points finish in Brazil to take some positive momentum into the season finale in Abu Dhabi?
"It was very good, especially after the bad result in Mexico. It was good for the whole team to score double points and, hopefully, we can take this momentum into the last race and have a good result there, as well."
Abu Dhabi is the season finale, and it's also the finale of Haas F1 Team's third year. After having to build brand new racecars in back-to-back seasons under two sets of very different rules packages in its first two years, how did this year compare to those previous years where you raced under fairly consistent technical regulations?
"There is not a big difference. It's more down to the design and aero people who have to adapt, but you plan for it and you do it. For sure, consistency sometimes makes it easier, but we're not here to make life easy. We're here to perform, and if you want to perform, you always work hard with the maximum of whatever regulations you are given."
Were there any key learnings from last year that you applied to this year, be it in car construction, personnel or even race weekend protocols?
"There is never one key thing that you learn. You just grow as a team and get better by doing it. The only thing which helps is time. For sure, you should be better in year three than in year two, and we were."
The team's understanding of the Pirelli tires, particularly each compounds' respective operating windows, seemed to be the team's biggest leap forward. What allowed the team to perform better in this area?
"It's just experience. You learn, but by no means have we finished learning about the tires. What works at one track may not work at another – not only because the compounds and tires change, but also because the track surface changes. Even if we have the same tires from one race to another, it doesn't mean they perform the same because the track surface and temperatures are different. There are so many things that go along with this, so you will never have a perfect understanding, but you get better with every race."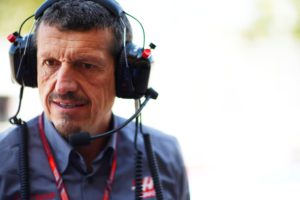 Regardless of the outcome in the Abu Dhabi Grand Prix, Haas F1 Team will have nearly doubled its point tally from last year. Are points scored the surest, most tangible examples of progress, or are there other elements of progress not everyone is able to see from the outside?
"The points are always one thing that everyone can see what we do but, in theory, we should have more than double the points."
What were the team's challenges this year?
"Like every year, our target is to improve. The challenge was to improve from last year's result. Racing's challenges are different every weekend and are mainly driven by your competitor, how good they are. The challenge is always to beat the other ones or as many as possible."
What were the team's strengths?
"We are getting a better understanding and we have more experience. This just comes with time, so I hope next year will be even better because we've had more time and have gained more experience."
The way Haas F1 Team is set up is unorthodox, at least by Formula One standards. Does the team's continued and increased level of success validate Haas F1 Team's approach?
"I wouldn't say our approach is better than the other setups, but it seems to be working for us. It's difficult to prove it right or wrong because we cannot do things the typical way. For sure, it's not hindering us from having good results."
Is there a particular moment from this season that stands out the most for you?
"From the negative side, losing all of the points in Australia when we had two pit stop failures. The positive would be finishing fourth and fifth in Austria."
When the season starts, Abu Dhabi seems very far away, yet here we are. Has the season gone by quickly?
"Too quick."
As you head into the offseason, how much "off" is there, or is that just a misnomer because preseason testing tends to arrive quickly?
"The offseason is getting shorter and shorter because next season we start a week earlier with the Australian Grand Prix, so there is very little 'off" in the offseason. I think the only week, and I would say it is half off, is the week between Christmas and New Years."
There has been some discussion of a winter shutdown around the holidays. What are your thoughts on this and how would it affect your car build schedule?
"It's not a bad suggestion to have the week between Christmas and New Years completely off. It would affect the car build schedule, but if you know early enough, you just plan for it like we do with a lot of other things. A few years ago, it was not even thinkable to have two weeks off in the summer, but now we do and it's fine. We can adapt pretty quickly."
As we look ahead to 2019, how different is next year's car in terms of this year's car design, and with some elements being simplified – specifically, the front wing, front brake ducts and bargeboards – what new areas of the car are being scrutinized for development?
"Development is all over the car. There is not one part being scrutinized more than another. The biggest gains you can make are with the new parts – the front wing and the brake ducts – especially in the beginning. Otherwise, you just focus on getting the best out of everything aerodynamically."
One. Last. Time.

The #F1 season finale is speeding towards us! pic.twitter.com/ACCdhVWi2g

— Haas F1 Team (@HaasF1Team) November 19, 2018