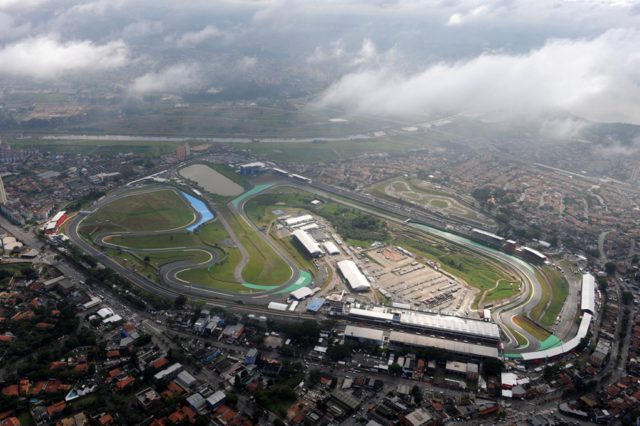 The Autódromo José Carlos Pace has hosted Formula One since 1973, first on a 7.960 kilometer (4.946 mile) layout and later on a 7.873-kilometer (4.892 mile) course from 1979 through 1999 before a massive reconfiguration in advance of the 2000 Brazilian Grand prix shortened the track to its current 4.309-kilometer (2.677-mile), 15-turn layout. Last year's F1 round there served as the venue's 34th Grand prix.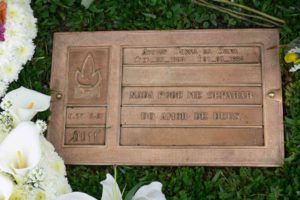 The Autódromo José Carlos Pace is the setting for one of the shortest laps of the year, but also one of the most intense. The undulating course is a challenge for drivers and teams. It's run anticlockwise and consists of a twisty infield portion between turns six and 12, with three long straights between turns three and four, between turns five and six and off turn 14 down the front stretch before the beginning of the Senna "S" in turn one. Maximum downforce would be preferred through the tight and twisting section, but in order to maximize the straights, cars need to be trimmed out with as little drag as possible. Some downforce is already lost before a wheel is even turned, as the track sits 800 meters (2,625 feet) above sea level. All of this puts grip at a premium on the relatively bumpy surface.
The traditional name of the circuit, Interlagos, comes from the track being built in a region between two large artificial lakes, the Guarapiranga and Billings, which were designed in the early 20th century to supply São Paulo with drinking water and energy power. In 1985, the speedway was renamed the Autódromo José Carlos Pace in honour of Pace, a Brazilian racecar driver who died in a plane crash in 1977. Pace's first and only Formula One victory came at Interlagos.
During the course of the Brazilian Grand Prix, lows will range from 14-16 degrees Celsius (58-61 degrees Fahrenheit) to highs of 22-25 degrees Celsius (71-77 degrees Fahrenheit). Relative humidity ranges from 55 percent (mildly humid) to 98 percent (very humid), with a dewpoint varying from 14 degrees Celsius/58 degrees Fahrenheit (comfortable) to 19 degrees Celsius/67 degrees Fahrenheit (muggy). The dew point is rarely below 11 degrees Celsius/51 degrees Fahrenheit (very comfortable) or above 22 degrees Celsius/72 degrees Fahrenheit (very muggy). Typical wind speeds vary from 3-21 kph/2-13 mph (light air to moderate breeze), rarely exceeding 29 kph/18 mph (fresh breeze).
Juan Pablo Montoya holds the race lap record at the Autódromo José Carlos Pace (1:11.473), set in 2004 with Williams. Rubens Barrichello holds the qualifying lap record (1:09.822), set in 2004 with Scuderia Ferrari in Q1.
Power Unit Notes
Interlagos sits in the upper bracket for ICE difficulty. The circuit may be short, but the long, uphill start/finish straight takes up a considerable percentage of the lap. The driver will be at full pedal travel for around 15secs, around 25% distance, or 20% of the overall lap time.
Interlagos sits 800m above sea level. Until the Mexican GP it was the highest race of the year by a long way but now seems low by comparison to the giddy heights of Mexico City. The turbo will be spinning at a higher speed to generate the same power as a sea level event, rotating at close to its maximum.
Due to the long periods of full throttle, the MGU-H has ample opportunity to recover lost exhaust energy. However, energy recovery is not necessarily critical as fuel consumption is relatively low due to the high altitude and lower air density.
In numbers
2 – There are only two countries in South America which Brazil does not border: Chile and Ecuador
2,994 – Brazil's highest mountain is the Pico da Neblina which stands at 2,994 metres. It was not discovered until the 1950s as it is often covered by clouds
4,000 – Brazil has more than 4,000 airports.
Formula 1 Grande Premio Heineken do Brasil 2017
Circuit name Autódromo José Carlos Pace
First race 1973
Previous winners
2016 Lewis Hamilton, 71 laps, 3:01:01.335s
2015 Nico Rosberg
2014 Nico Rosberg
History lesson Interlagos is one of the oldest and most historic venues on the Formula 1 calendar. The circuit staged its first world championship race in 1973, on a breathtakingly fast 7.960km/4.946-mile layout that McLaren world champion Emerson Fittipaldi described as "a rollercoaster". The track was shortened and modified in the late '80s for safety reasons and the new layout has hosted the Brazilian Grand Prix every year since 1990
Travel
City Sao Paulo
Time zone GMT-2/CET-3
Population 15 million
Getting there As with all of the flyaway races, the pre-set-up crew headed to Sao Paulo 10 days before the race. The mechanics followed on Sunday night, arriving on the Monday morning of race week, with the engineers following 48 hours later
Surprising fact Sao Paulo has the third-largest concentration of skyscrapers in the world, behind New York and Hong Kong
Local speciality Brazil has many cultural influences, all of which combine to make the country a culinary delight. Meat is a staple in many dishes, a highlight of which is Feijoada, the national stew. The ingredients are salty meat, rice, beans and farofa, a toasted manioc flour mix
Weather The weather is notoriously unreliable in Sao Paulo. Temperatures are currently around 22 degrees and sunshine is expected over the race weekend. But you can never discount the possibility of rain – it's Sao Paulo!
Track
Track length 4.309km/2.677 miles (third-shortest track of the year – longest: Spa-Francorchamps, shortest: Monaco)
2016 pole position Lewis Hamilton, 1m10.736s
2016 fastest lap Max Verstappen, 1m25.305s (lap 67)
Lap record 1:11.473s (Juan Pablo Montoya, 2004)
Tyre choice Red Supersoft, yellow Soft and White medium – the ninth time this combination has been used in 2017
Distance to Turn One 190m/0.118 miles (longest of season: Mexico 800m/0.497 miles)
Longest straight 650m/0.404 miles, on the approach to Turn One (longest of the season: Baku, 2.1km/1.305 miles)
Top speed 320km/h/199mph, on the approach to Turn One (fastest of season: Monza, 360km/h/224mph)
Full throttle 62 percent (highest of the season: Monza, 75 percent)
Brakewear Low. There are only six braking zones around the lap, of which only two are heavy. Just 15 percent of the lap is spent braking
Fuel consumption 1.49kg per lap, which is low
ERS demands High. There is a relatively high amount of ERS deployment around the lap, but not many places in which to recover the energy through braking
Gear changes 42 per lap/2,982 per race
Race
Laps 71 laps
Start time 14:00hrs local/16:00hrs GMT/17:00 CET
Grid advantage The outside of the track, where pole position is located, holds a definite advantage because it's on the racing line. It's one of the shortest dashes of the year to Turn One, so the cars are still very congested when they turn in and there's often contact
DRS There are two DRS zones, on the approaches to Turns One and Four
Don't put the kettle on… Last year's race was atypical, due to the wet conditions. Lewis Hamilton won the race with three stints on the Wet tyre; Max Verstappen, in third, split his race into six stints, alternating between the Wet and Intermediate tyres. If this year's race is dry, the expectation is for one pitstop because Pirelli is taking relatively conservative tyre choices
Pitlane length/Pitstops 380m/0.236 miles (longest of the season: Silverstone, 457m/0.283 miles). It takes 20s to make a stop; drivers need to be careful not to cross the white line on pit entry
Safety Car likelihood 70 percent. This race is traditionally incident-filled, with a Safety Car period or a Virtual Safety Car period occurring most years
Watch out for… The weather. Sao Paulo's nickname is Terra da Garoa, "the land of drizzle", and with good reason. Conditions can change quickly, which often leads to exciting races
RACE WEEK IN BRAZIL! ??

These guys have just about dried off after last year ?#BrazilGP pic.twitter.com/4hUSvNDRQy

— Formula 1 (@F1) November 6, 2017