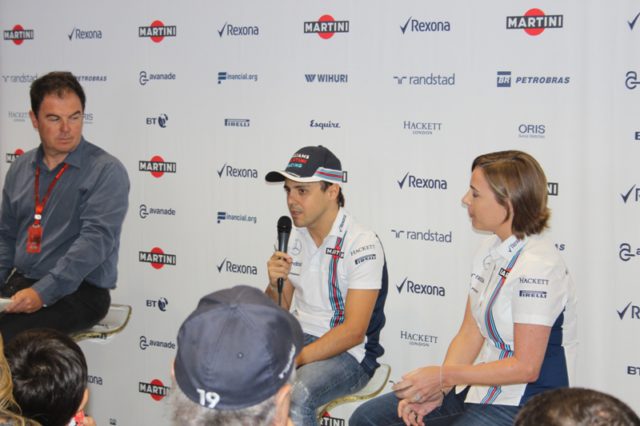 Felipe Massa has announced that he will retire from Formula One at the end of the 2016 season. The 35-year-old Brazilian spent 14 years at the top level of the sport. He will celebrate his 250th Grand Prix start at his final race in Abu Dhabi this year.
Felipe made his F1 debut with Sauber back in 2002. He scored his first points in just his second race. Massa was signed as a test driver by Ferrari for 2003. After that Felipe Massa returned to Sauber for two further years alongside his testing duties with Ferrari. This relationship paved the way for Ferrari's driver academy which was launched in 2009.
The Brazilian graduated to a race seat at Ferrari in 2006, alongside seven-time World Champion Michael Schumacher.
Felipe took the first two of his 11 career victories that season, finishing third in the world championship
Felipe Massa came close to winning the 2008 World Championship with Ferrari. He lead the standings with just half a lap of the final race of the season to go, until Lewis Hamilton climbed enough places to claim the title.
Felipe stayed with Ferrari up until he joined Williams in 2014. With 139 starts for the Scuderia he became the team's second-longest serving driver ever, behind Schumacher.
Felipe remains one of the most popular drivers in Formula One, especially so in his native Brazil, and in Italy following his 11-year stint with Ferrari, making it especially poignant that today's announcement is taking place at the Italian Grand Prix.
Felipe Massa said: "I must start by especially thanking my wife and my father, my whole family, my manager Nicolas and all the people who have supported me throughout my career."
Felipe Massa: "Thank you to God for giving me the opportunities I have had in life and, above all, for protecting me."
"A huge thank you as well to everyone I have worked with over the years. Every team I have been a part of has been a special experience, and not only in Formula One. I have so many great memories over the years and thank everyone in all the teams I have come through to help me get to where I am today. My career has been more than I ever expected. I am proud of what I have achieved. Finally, it is a great honour to finish my career at such an amazing team as Williams. It will be an emotional day when I finally conclude my Formula One career with my 250th Grand Prix start in Abu Dhabi."
A big thanks to @MassaFelipe19 from everyone at Williams! #ItalianGP pic.twitter.com/3hanEJLmTl

— WILLIAMS RACING (@WilliamsRacing) 1 September 2016