Gaining experience can be really fun. In Audi Virtual Training, service and dealership employees practice optimal behaviour in customer contact. During the two-hour training session, they work in the virtual dealership with demanding customers. Employees deal as well with surprising reactions and complex situations. Audi is a pioneer in the automotive trade when it comes to virtual training. Meanwhile, around 570 partner businesses in Germany already make use of the training program.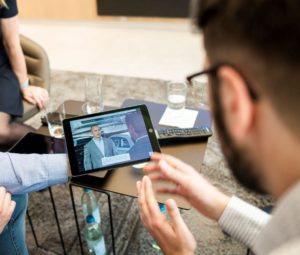 In the computer game, the employee freely moves his avatar through the 3D world
In the virtual Audi terminal, he encounters many different photorealistic figures. The aim is to further improve his own communication while also daring to try out completely new paths. That happens through dialogue with customers as well as with colleagues or their supervisor.  The employee can track the success or failure of each action immediately after completing it by using a barometer that reflects the mood of the customer. After that, the employee collects points for a successful dialogue. Via a list of rankings participants compare their results with other colleagues Germany-wide.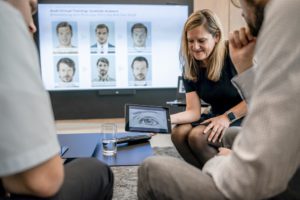 In the virtual training, Audi emphasizes curiosity and individual responsibility of the employees in the car dealership
"Learning must be fun. Only under this condition, the learned skills are remembered for a long time," says Martin Sander, Vice President Sales Germany. In the game, employees choose the learning fields themselves and can test completely different versions of their answers.
He adds the program is explicitly looking for mistakes while searching for their solution. This way the company develops strategies as well as livening the learning process.
Audi designed the virtual training in close cooperation with the dealers and included customer feedback. By this means, players learn in a realistic situation. The training is flexible and available at any time; participants can complete the course on a tablet, a PC or a smartphone.
Audi developed the training game with experts from the games industry
In 2017, Audi already brought the first four training modules to dealerships. Those were "Customer Journey," "Premium/Prestige," "Service Experience" and "Customer Encounter in Sales and Service". Since recently there is also a training module to the innovative learning concept – on "Feedback Management". The company is continuously expanding the program while selectively combining it with classroom training for a modern "blended learning" approach.