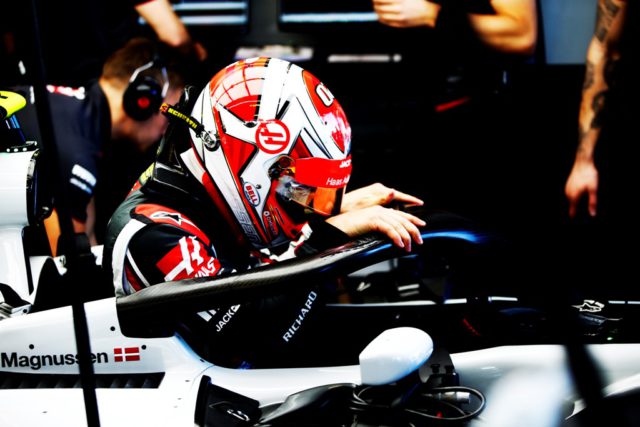 Haas Romain Grosjean and Kevin Magnussen have scored a point-paying result in Brazil, with each earning a ninth-place finish. Grosjean's came in the 2015 Brazilian Grand Prix in his last season with Lotus. Magnussen earned his in 2014 during his rookie year with McLaren.
Here Magnussen previews the Brazilian Grand prix.
During your recent travels in North America, you got to sample a 1,375 pound (624 kilogram), 750-horsepower winged sprint car with direction from three-time NASCAR Cup Series champion Tony Stewart at a dirt track in North Carolina. How was it?
"I really enjoyed it. It was definitely the most fun I've had in a racecar for many, many years. It was just cool to try something so different to what I usually do and was great to spend a bit of time with Tony and get some great tips from him."
How different was that sprint car from anything else you had driven, and how naturally did the skill of turning left to go right come to you?
"Well, you do have some kind of skill as a Formula One driver, but we're not used to drifting that much. We definitely prefer not to be drifting the car. In the sprint car, you try and really drift almost the whole lap. You've got as much downforce when you drift, or even more when you drift, than in a straight line. That's very different to what I'm used to. Then, obviously, driving on dirt is something I've never done before. I just loved the whole experience. You sit on it like a John Deere, yet the thing has around 800 horsepower."
Stewart said you picked up the nuances of a sprint car pretty quickly and that you got to within a half-second of his time. How did his instruction help and was there anything that surprised you?
"It surprised me how physical it was. It didn't look physical from the outside, but when you got in, it was a lot faster than I expected it to be, a lot more powerful, and it had a lot more grip. I loved it."
Sprint cars are pretty rudimentary, especially compared to a Formula One car. Did you like that, as it definitely accentuates a driver's ability?
"It was great finding something completely new and having to really start from zero with a racecar again. I'm so used to the Formula One car now, you're always just fine tuning and going backward and forward, just changing little things. This was completely new. You had to make up a completely new driving style, and just go about it step by step. I loved that process of moving your limits, finding new limits, and learning new things. It was great to go back to the roots and just enjoy a bit of fun in a racecar."
With only two races remaining, the midfield is as tight as ever, specifically among Haas F1 Team, Renault, McLaren and Force India. How would you characterize this battle, and do you find yourself looking at the time sheets to see where you stack up to the drivers on those teams?
"The midfield fight is still intense, although the gap to Renault has increased. We're still really keen to try and catch up, and we'll do everything we can to maximize our chances against them. Behind us in the championship we've got some breathing room. We know that things can turn around quickly. We want to score as many points as we can."
There's no trophy for fourth place in the constructors' standings, so why is it so coveted by teams outside of Mercedes, Scuderia Ferrari and Red Bull?
"It's the 'best-of-the-rest', so there's a lot of pride in it. It's a very tight battle in the midfield. We shouldn't really be fighting Renault in Formula One, because they have a lot more resources, a big factory and a lot more people involved. With what we've got, we use it a lot better than they do. That's already something to be proud of. On average, we've been quicker than them this year so, of course, it's disappointing to be behind them in the championship at this point. We just have to build from here. We've taken a step forward this year and we've proved that we can build a car that's capable of best-of-the-rest. We just have to minimize the mistakes, score points and get the results we deserve to have more points regularly."
Interlagos appears to be a very physical track, and heat often plays a role in the performance of the car and the driver. Considering these variables, how do you attack the track?
"It's a great track. It's one of the old-school circuits with a good flow to it. It has banking, it goes up and down – it's not just a track full of tarmac runoffs. It's a fun track to drive. I'm looking forward to racing there. You can overtake there, but it's not easy. You really need to get qualifying right. I think we have as good a chance there as we do any other race."
What is your favourite part of the Autódromo José Carlos Pace?
The Senna 'S' bend. It's a nice flowing part of the track."
Describe a lap around the Autódromo José Carlos Pace.
"Legendary and challenging."