In a sport built on speed, it makes sense that a nine-month schedule can seemingly fly by. After beginning its 69th season March 25 with the Australian Grand Prix, the 2018 FIA Formula One World Championship heads into its penultimate event with the Brazilian Grand Prix Nov. 11 at Autódromo José Carlos Pace. The circuit is in the Interlagos neighbourhood of São Paulo. Haas F1 Team comes into the Brazilian Grand Prix enjoying its best season to date. Having debuted in 2016, the American squad has steadily improved each season, scoring 29 points in its inaugural campaign and 47 points last year. With two races left on this year's 21-race calendar, Haas F1 Team has tallied 84 points and is fifth in the constructors' standings. It trails fourth-place Renault by 30 points and holds a 22-point advantage over sixth-place McLaren.
Haas team principal Guenther Steiner previews the Brazilian Grand prix.
Last year at this time, Formula One and the FIA jointly announced a direction for power unit regulations in 2021. That included a higher-revving engine (3,000 rpm higher), removal of the MGU-H, a more powerful MGU-K with manual driver deployment and a single turbo with dimensional constraints and weight limits. Granted, you're not an engine manufacturer as you receive your engines from Ferrari. But where are we in regard to this direction and, after a year into its planning, do you believe it's on track to deliver the intended results?
"The regulations for the engines in 2021, they are not completely decided yet. There are still talks going on. In principle, I think the engines will be staying the same as they are now, or very close to it. I think the manufacturers are working to save some costs. But, the decision has not been made yet."
Much has been made about the sound of Formula One cars, specifically that they need to be louder like they used to be. What are your thoughts?
"I think we've achieved a good level of noise. To be a little bit noisier would be nice, but I think we're good where we are."
Of all the elements mentioned in the direction of the 2021 power unit regulations, is the most important element cost?
"It's a very important element in this because for 2021 we're trying to introduce a cost cap. The engine is a big cost factor for each team. The lower it is, the better it is, as we can make more developments somewhere else."
Once all the elements of the 2021 power unit regulations are agreed upon, it's about a two-year development process. How does that development process factor into the design of your 2021 racecar?
"As soon as we get the regulations – and there is no defined date yet when we will get them – we will decide when we put focus on the 2021 car. We obviously have to manage the cars we are racing. And if the regulations come out in 2019, we still need to develop our car for 2020. Until we have the final regulations – technical and sporting – we cannot make a decision on when we start development on the 2021 car."
Speaking of future car design, how is development coming on your 2019 car? Especially considering there are some significant new rules for next year, which include a wider and simpler front wing, a tidier front brake duct assembly and a wider, deeper rear wing devoid of endplate louvers?
"The development is coming along nicely. As I always say, as much as I can be happy with what we are doing and what our team is doing to develop, I have no idea what the other teams are doing and how far down the line they are, or how much aero development they've done and the downforce they've achieved. The only way we will see that is in Spain next year when we go testing in February."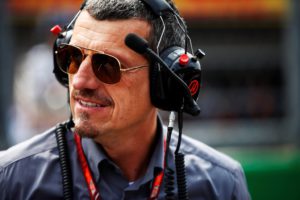 Has the tight battle for the top of the midfield made developing your 2019 car a little harder because your current standing in the constructors' ranks is so tight?
"We consciously decided before the summer break to develop the 2019 car, so that doesn't distract us at all."
With only two races remaining, the midfield is as tight as ever, specifically among Haas F1 Team, Renault, McLaren and Force India. How would you characterize this battle, and do you find yourself looking at the time sheets to see where you stack up in relation to those other teams?
"It's very tense in the midfield, and I think it's a very interesting battle. I would always like to be on top of the battle. But it changes all the time, and you're really focused on that one during every practice, qualifying and race to see how close you are to your nearest competitor."
In back-to-back weeks Haas F1 Team has made significant partnership announcements – first with PEAK Coolant & Antifreeze and BlueDEF Diesel Exhaust Fluid expanding its role with the team and then Rich Energy becoming title sponsor. What do these announcements say about the competitiveness and commercial viability of Haas F1 Team, especially considering the organization is only in its third year?
"I think it says it all. With success, you get interest from companies to partner up with you because you get good exposure. Everybody likes to be with successful people."
We're ready to bask in the São Paulo sunshine soon! #BrazilGP pic.twitter.com/VNJJ6U0cLr

— Haas F1 Team (@HaasF1Team) November 5, 2018