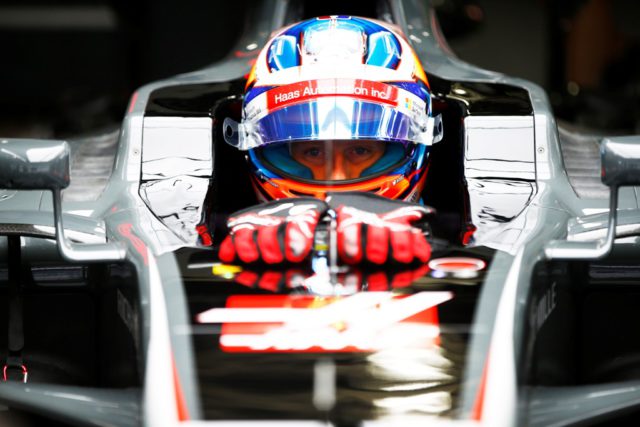 Haas Romain Grosjean and Kevin Magnussen have scored a point-paying result in Brazil, with each earning a ninth-place finish. Grosjean's came in the 2015 Brazilian Grand Prix in his last season with Lotus. Magnussen earned his in 2014 during his rookie year with McLaren.
Here Grosjean previews the Brazilian Grand prix.
In back-to-back weeks Haas F1 Team has made significant partnership announcements – first with PEAK Coolant & Antifreeze and BlueDEF Diesel Exhaust Fluid expanding its role with the team and then Rich Energy becoming title sponsor. What do these announcements say about the competitiveness and commercial viability of Haas F1 Team, especially considering the organization is only in its third year?
"I think it's very good news. I think a lot of teams are looking for big sponsors. The announcement of Rich Energy joining Haas F1 Team is really good news. It shows that the team is attractive to sponsors. Hopefully, these announcements are the first of many."
With only two races remaining, the midfield is as tight as ever, specifically among Haas F1 Team, Renault, McLaren and Force India. How would you characterize this battle, and do you find yourself looking at the time sheets to see where you stack up to the drivers on those teams?
"We always look at the timesheet. The battle is quite tight, quite good. We lost a bit of ground at our home grand prix and in Mexico, which is a shame. We're trying to make up for it, and we'll be giving it 100 per cent."
There's no trophy for fourth place in the constructors' standings, so why is it so coveted by teams outside of Mercedes, Scuderia Ferrari and Red Bull?
"It's got a big significance for us. Fourth or fifth would be a big achievement for Haas F1 Team in its third season of competition."
Haas F1 Team has proven quick at nearly every track it has raced on this year. Are there characteristics of the Interlagos circuit that you think will play into the strengths of the car and your strengths as a driver?
"Yes. Interlagos should be a good grand prix for us. It's a track I particularly like. I'm very much looking forward to going there."
Interlagos was resurfaced prior to the 2014 race. How much has the track changed since then and what do you expect this year with another year of weathering to the track surface?
"The tarmac has been good but the curbs have been changed, which is a bit of a shame as it's lost a bit of the spirit of Interlagos. Generally, it's an amazing track. The tarmac – we now have a good understanding of it – so, hopefully, we'll have a good weekend."
Interlagos appears to be a very physical track, and heat often plays a role in the performance of the car and the driver. Considering these variables, how do you attack the track?
"It's a pretty tough track with not much opportunity for a rest. Even in the straight lines you can't rest as much as you would like. You're at altitude as well, at 800 meters (2,625 feet), so coming from Mexico that's nothing, but you're still not at sea level. The weather can be challenging. It can be very warm and humid. It's a pretty intense challenge but, at the end of the day, that's what we're looking for."
What is your favourite part of the Autódromo José Carlos Pace?
"I like the Senna 'S', and the first few corners are pretty amazing."
Describe a lap around the Autódromo José Carlos Pace.
"You go onto the pit straight and then big braking to go to the Senna 'S'. Very tricky turn in on the left-hand side. You really want to be well placed for the right turn two, which sets you up for turn three and the second straight. Big braking to turn four, left-hand side, 90 degrees, a pretty good corner. Then you get to the middle part – turn five is a high-speed corner going up the crest. It's tricky. Then it's turn six and the hairpin on the right-hand side. We can't use the curb as much as we used to. Turn seven is a left-hand side corner, no braking, just a lift off. It's a bit of a strange one. The second hairpin is then on the right-hand side, a second high-speed corner going down the hill, prior to the last turn. It's a left-hand corner where you really want to go early on the throttle because you're facing a wall to go up to the finish line."
Whenever Formula One travels to Brazil, Ayrton Senna's legacy is prominent. Of all his races, is there one that stands out?
"Brazil is always special because of Ayrton Senna. He was one of the biggest names in Formula One. Interlagos is a special place. There's so much history there. On raceday, you've got so much support from the fans. I remember Ayrton winning there in 1991 when he couldn't hold the trophy in the air because he was so tired and had the pain in his arms from driving."
#BrazilGP Fast Fact: Some downforce is already lost before a wheel is turned in São Paulo as it is 800 meters (2,625 feet) above sea level. pic.twitter.com/orWlyWGG4a

— Haas F1 Team (@HaasF1Team) November 6, 2018