The Isle of Man TT Festival is among the most famous motorsport festivals in the world. Every year, over two weeks, 30 million fans tune in to see top motorcyclists test their talent on the incredible "Mountain Course". But you don't have to be on two wheels to get the best out of the Mountain Road.
For the latest in Ford's series of films that showcase hidden gems for drivers and travellers alike, journalist Steve Sutcliffe got behind the wheel of the Ford Mustang Bullitt, on the island where many roads are not restricted by speed limits. (Although there are still laws against careless and dangerous driving.)
"Imagine German autobahns, then add hills and twists, and shrink it to a single carriageway with incredible views, and what you have are these utterly fantastic, and dramatic, roads," said Sutcliffe. "The Mountain Road feels – and is – an utterly dramatic place to drive. It's epic, and quite unlike anywhere else".
The mountain itself is said to be unique. It is the only place from which you can see all four countries that make up the United Kingdom: England, Scotland, Wales and Northern Ireland. And it does pay to slow down and enjoy the incredible scenery, as well as the local hospitality.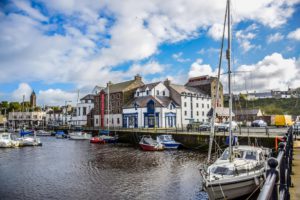 No limits. Taking on the world's most iconic motorcycle course – on four wheels
"The food and drink is excellent, pretty much everywhere on the island," said Sutcliffe. "You may go there for the exhilaration of driving one of Europe's most notorious roads, but it's the people, the food and the scenery that will compound your sadness to be getting the ferry home."
This is the ninth film in the series. Rated on factors including thrill factor, food and road surface, the Mountain Road achieved the highest score in the series to date.
Celebrating the 50th anniversary of the legendary Warner Bros. film of the same name, the new special edition Ford Mustang Bullitt is available to order across Europe. It has an enhanced version of Ford's 5.0-litre V8 engine delivering 460 PS and 529 Nm of torque.