Lewis Hamilton took his 71st career victory – his 50th with Mercedes-AMG Petronas Motorsport, ninth of the 2018 season and fourth at the Suzuka International Racing Circuit. Valtteri Bottas came in second to complete the second 1-2 for the team in a row. That was the Finn's first podium at the Japanese Grand Prix and 30th podium finish in Formula One. The result marks the fifth consecutive win in Suzuka for Mercedes. It is also the tenth win at the Japanese Grand Prix for Mercedes-Benz Power.
As race debriefs go, this one was pretty sweet…

? to these legends for all their hard work! #TeamWork#F1 #JapaneseGP pic.twitter.com/JV5OlbPnef

— Mercedes-AMG F1 (@MercedesAMGF1) October 8, 2018
"That was a very tense Grand Prix for us. It might have looked pretty smooth from outside but within the team we were managing blisters in the tyres, some driveability issues with Lewis' power unit and very competitive Red Bulls behind us. So to take a 1-2 for the second race in a row is pretty special – not just for the trackside team here after a tough back-to-back, but for everybody back in Brackley and Brixworth who have poured their efforts into developing this car and power unit", said Mercedes motorsport director Toto Wolff.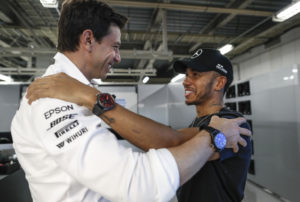 Wolff: Mercedes have come out of the challenges we faced even stronger than before
"There hasn't been a single silver bullet – just a lot of hard work, creativity and a mindset to channel the pressure of the competition and keep pushing hard to achieve our objectives. The approach will remain the same in the coming races: we will not let up one single bit when it comes to bringing more performance to the car, and keep taking everything day by day. It has been an important week for the team and we have come out of the challenges we faced even stronger than before. From here, every race is like a mini-championship and we need to keep aligning our race weekends in the same way we achieved in Sochi and Suzuka."
Last word from Suzuka goes to Rdimu, who handed this lovely message to Toto… ?

A reminder that without you guys and your passion there is no @F1!

Japan, it was the best time. Thank you! ❤️#JapaneseGP ?? #F1 pic.twitter.com/QIvOBgLO7M

— Mercedes-AMG F1 (@MercedesAMGF1) October 7, 2018