The Volkswagen Polo GTI R5 has a new look. The final livery for the 200-kW (272-PS) rally car is a reinterpretation of the spectacular optics from the Golf GTI TCR touring car. "The Polo GTI R5 looks really exciting," said Volkswagen Motorsport Director Sven Smeets. As of November, customers will receive the first cars. After that, the Polo GTI R5 will compete in international as well as national rally championships.
Meanwhile, Nico Mühr, Exterior Design Volkswagen, describes the philosophy behind the dynamic look of the Polo GTI R5:
"We purposely used many of the design elements from the production vehicles of the GTI family for the Polo GTI R5. In addition to the typical colours of red, white, black and the distinctive line on the front grill, it is the GTI icons with their honeycomb structure in particular that give the rally Polo its distinctive look. Ultimately, the Polo GTI R5, despite its extreme rally look, remains clearly identifiable as – no doubt the fastest – member of the Polo family."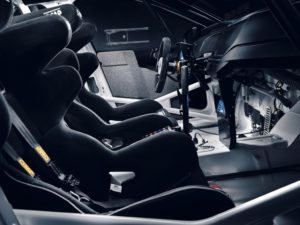 Volkswagen presents the Polo GTI R5 for rally customers
The bonnet conceals a 1.6-litre turbo engine with direct injection. It enables the four-door car to accelerate from 0 to 100 km/h in 4.1 seconds. And the car is weighing just under 1,230 kilos. The new rally Polo has a development period of 20 months behind it. It has completed test drives of over 10,000 kilometres in all manner of climatic conditions. This diligence is due in part to the regulations.
"Only minimal technical modifications are allowed to be made to an R5 during the specified motorsport lifetime of five years," explained Gerard Jan de Jongh, Technical Project Lead Polo GTI R5. "This is why we prepared ourselves as well and thoroughly as possible."
Tick. Tock. 20 days until @RallyRACC, right? Time to reveal the livery of our two #Polo #GTI #R5 cars for @EricCamilli and @Petter_Solberg. GTI rulez!#WRC #WRClive #WRCGB #WRCSPA #Gravel #Tarmac #IceSnow pic.twitter.com/TFwdlJrFh5

— VolkswagenMotorsport (@volkswagenms) October 5, 2018