Four talented Red Bull Junior Team drivers are looking to progress their careers in 2019 as part of the Honda Formula Dream Project.
Briton Dan Ticktum and Austrian Lucas Auer will race against each other in the 2019 Super Formula Japan series. Both already took part in Suzuka testing.
Nineteen-year-old Ticktum finished runner-up in the Formula 3 European Championship to German Mick Schumacher in 2018
But he did not have the sufficient superlicence points to graduate to Formula 1 in 2019.
Auer, 24, is the nephew of former F1 racer Gerhard Berger. He has already tested with Force India in F1. Auer has also won races for Mercedes in DTM.
The December 5/6 Suzuka test gave a glimpse of what to expect from Round 1 of the 2019 Super Formula Championship at the same venue on April 20/21.
Among the more famous names in the championship are former Formula 1 drivers Kazuki Nakajima and Kamui Kobayashi. Harrison Newey, son if the legendary Grand prix designer Adrian Newey, will also be in Super Formula. Meanwhile, Nirei Fukuzumi of the Docomo Team Dandelion Racing was fastest in the Suzuka test.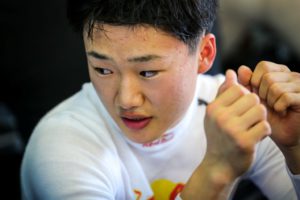 2018 F4 Japanese Championship winner Yuki Tsunoda has been added to the roster for 2019 and will contest the new FIA F3 series following his Abu Dhabi test.
Eighteen-year-old Tsunoda will race against Estonian Jüri Vips, 18, who finished seventh behind winner Ticktum at the 2018 Macau Grand Prix.
In 2016, Tsunoda made his debut in the Suzuka round of the Japanese F4 Championship. Then he claimed a podium and a fourth place finish on debut. The following year, Tsunoda contested the championship full-time with the Honda Formula Dream Project. He took three wins as well as four pole positions. In the end, he was third in the championship behind Ritomo Miyata and Ukyo Sasahara.
In 2018, Tsunoda reunited with Honda for a second full season in the Japanese F4. With seven wins and eight pole positions, Tsunoda claimed the title at Motegi.
<2019年参戦発表>
先程HONDA Racingでもリリースされましたが、来年から始まるFIA-F3にjenzer motorsportからの参戦が決定しました。また今後新たに発表することがあるかもしれないので、お待ちください!皆様の応援宜しくお願い致します!早速、3日後から行われるGP3アブダビテストに参加します! pic.twitter.com/ubVAQ0NsGu

— Yuki Tsunoda (@yuki_TY0511) November 26, 2018