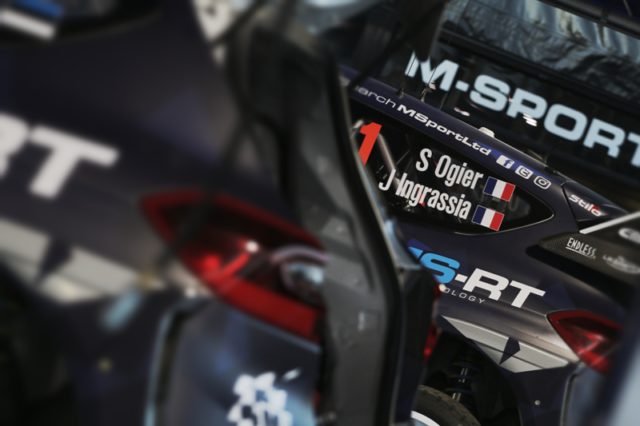 M-Sport Ford World Rally Team are ready to put their cards on the table for the 2018 FIA World Rally Championship. Taking to the wheel of the EcoBoost-powered Ford Fiesta WRC at the traditional season opener, Sébastien Ogier, Elfyn Evans and Bryan Bouffier are prepared to fight for one of rallying's most sought-after accolades – a Rallye Monte Carlo victory.
The team completed two comprehensive test sessions in anticipation – a development test at the end of last year followed by a more targeted set-up session last week. A thrilling competition awaits, and the Cumbrian squad are determined to put their best foot forward with the first roll of the dice.
Following the most successful season in M-Sport's history, Team Principal Malcolm Wilson OBE is determined to see the team continue in the same vein this year. The team are resolute on defending their FIA World Rally Championship titles but remain acutely aware that the competition will be stronger than ever.
M-Sport Team Principal Malcolm Wilson said:
"Last year saw us enjoy our most successful season in motorsport and that's something that we want to see continue in 2018. The hard work has not stopped and everyone has been working around the clock to ensure that we start our title defence on a high."
"We have completed two comprehensive test sessions and the feeling amongst the team is more determined than ever. It might not be possible to make huge gains within the regulations, but we have been working with our partners to enhance what was already an extremely strong package."
"Every team is capable of securing the ultimate prize this year and I am expecting the competition to be closer than ever. It's so difficult to predict who will even come out on top this week and that in itself is fantastic for the sport."
"In Sébastien, Elfyn and Bryan we have three very competent and intelligent drivers who are all more than capable of securing a Monte Carlo victory. That has to be our aim so let's see what happens. Like every rally fan, I am very much looking forward to the start of this exciting new season."
Sébastien Ogier and Julien Ingrassia head into 2018 as the crew to beat
They are the reigning World Champions and the reigning Rallye Monte Carlo victors. The Monegasque event may be notoriously difficult to predict, but few would bet against the Frenchmen.
Having contested the rally on six previous occasions, they have five victories to their name – as part of the Intercontinental Rally Challenge in 2009 and unbeaten in the WRC since 2014.
Sébastien Ogier said:
"We start the new season with an event that is always a real highlight for me – Rallye Monte-Carlo. As my home event, I always want to give my best and challenge for the top results."
"We started something great here last year and want to try and build on that in 2018. We will need to work hard as the competition will be very tough. Every team has a winning car and a winning driver so everyone is a threat and we need to be ready right from the start."
"It's such a challenging start to the season – the ultimate test with extreme conditions that can see us go from dry Tarmac to pure ice and snow in the space of a single stage. It's certainly not easy, but that's what makes a good result here so rewarding."
"We'll start this year with what could be the biggest challenge of the entire rally – Sisteron, in reverse, in the dark. It doesn't get much tougher than that, but that's Monte. It's always a challenge and that will be the case from the very first stage this year."
Always a pleasure to share some moments with great athletes from the #RedbullFamily !!#Hahnenkammrennen #kitzbühel @redbull pic.twitter.com/B7fR4fqyVn

— Sébastien Ogier (@SebOgier) January 20, 2018
After securing their maiden victory on home soil at last year's Dayinsure Wales Rally GB, Elfyn Evans and Daniel Barritt are hungry for more.
Having contested Rallye Monte-Carlo on four previous occasions, the pairing has collated good knowledge and often shown promising speed through the challenging terrain – just 0.5 seconds shy of a stage win on the third stage of their joint world rally car debut in 2014 and posting a string of three fastest stage times more recently in 2017.
Elfyn Evans said:
"Rallye Monte Carlo is one of those events that every driver looks forward to. I've always said that it offers some of the best Tarmac roads in the world, but at this time of year the conditions make it a true challenge and the ultimate test of strategy. To do well, you really do need to get absolutely everything right."
"We've just completed two days of testing in mixed conditions. The road was constantly evolving which is great when it comes to getting a flavour for everything we've come to expect on a rally like this, but it can also be a bit of a double-edged sword at times – making it difficult to judge which direction to go in terms of set-up."
"Overall, I would say that we had two pretty good tests and that we are feeling fairly well prepared. Monte can always be a bit of a lottery and it can go either way, but we're definitely ready to get the season started. We want to start the year on a high, so we'll give it our best and see what happens."
Our ride for 2018 ?@MSportLtd @redbullmotors @RedBullUK pic.twitter.com/pAB4ysqJxn

— Elfyn Evans (@ElfynEvans) January 11, 2018
As a previous winner of the prestigious event, the Frenchman knows what it takes to succeed. He has more experience than most when it comes to reading the changeable conditions.
This will, however, be his first time behind the wheel of a new-generation world rally car. To prepare for his latest debut, Bouffier took the co-drivers' seat alongside Sébastien Ogier during last week's test. He and co-driver Jérôme Degout then completed a full day of testing.
Bryan Bouffier said:
"Since learning that I would be driving the Ford Fiesta WRC, Rallye Monte Carlo could not come soon enough! It's one of my favourite events and having the opportunity to do it in one of these new generation world rally cars – the championship-winning car – is a dream come true."
"I have a lot of experience at Rallye Monte Carlo which helps when it comes to reading the road and adapting the pace to suit the conditions. But this event is never easy. It's one of the toughest events on the calendar. And to do well you need to drive a clever rally by making the right calls on the tyres. [You need to find] the right balance between pushing hard and being more cautious."
"As one of the 'French' events, I feel at home at Rallye Monte Carlo and am really looking forward to it. First and foremost, we want to have fun. We'll start in a relaxed frame of mind and if we could help the team by scoring some good points for the manufacturers' championship it would be amazing."
Éric Camilli and Teemu Suninen will both take the wheel of the EcoBoost-powered Ford Fiesta R5 as part of the FIA World Rally Championship's premier support series – WRC 2. Here's what they had to say ahead of Rallye Monte Carlo.
Éric Camilli said:
"Rallye Monte Carlo is my home event and one that I always look forward to. This will be my fourth time here and I hope that experience will help. Anything can happen on the Monte. But that added knowledge should help when it comes to reading the road and knowing when to push and when to be more cautious."
"The competition will be really tough, but I hope that we can pull everything together for a strong result. This rally is very unforgiving so we will need to work hard and make all the right choices. We will need to be clever and give it our very best."
Teemu Suninen said:
"This is only my second attempt at Rallye Monte Carlo. So I don't have a vast amount of experience on these roads. My main aim is to drive well even if the conditions are very challenging – which they usually are at this rally! The WRC 2 category will be very competitive. But we will give it our best and aim to learn as much as we can."
"I feel really happy at M-Sport with my excellent teammates. They are all very experienced and there is no better driver to learn from than Sébastien Ogier. Everyone is very open when it comes to help and advice. So it is the best place for me to be and improve my driving."