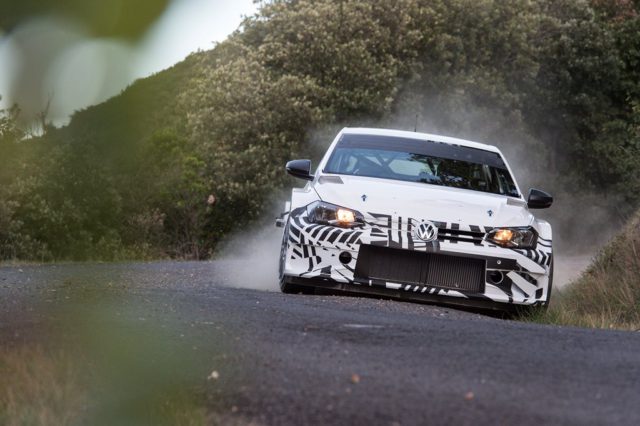 First tough test passed: the Volkswagen Polo GTI R5 has successfully completed its first test kilometres in Fontjoncouse, France. Volkswagen test driver Dieter Depping and Swedish WRC2 champion Pontus Tidemand spent three days testing the new 270-hp rally car for customer racing. The new GTI R5 is based on the sixth and latest generation of the production Polo.
"A successful first test is a good sign and great motivation," said Volkswagen Motorsport Director, Sven Smeets
"After the many hours and weeks spent working on our latest customer racing project on the computer, in the design process and in the workshop, the Polo GTI R5 can now finally show what it is capable of out on the road, and we can gain valuable data for the further development of the car."
First was work on the set-up. It took place on a 3.85-kilometre asphalt route, in dry conditions and with the temperature hovering around ten degrees Celsius. The route was alternating between fast and winding sections. The team tested the durability of the tyres, brakes, engine and cooling system. The following two days were spent on stony surfaces. The four-wheel drive Polo GTI R5 successfully mastered the rough gravel routes. These stages put a huge amount of strain on the chassis, dampers and suspension. The venue for the tests was familiar territory for the Polo. It was here in 2011 that Volkswagen carried out the first test on the Polo R WRC. This car went on to win the World Rally Championship four times in a row between 2013 and 2016. Dieter Depping was also at the wheel of the test car back then.
"It is a special feeling to be back here, where the Polo embarked on its first rally adventure roughly six years ago," said Volkswagen test driver Depping. "It is now about achieving the best possible set-up for the new Polo GTI R5. This first test was primarily about getting a lot of kilometres under our belt, in order to give the engineers as much data as possible. I can tell you one thing now: The R5 Polo is also very good, very quick and precise. I immediately felt right at home!"
Volkswagen is expanding its customer racing programme with the new Polo GTI R5
The company offers the new rally car to professional teams and drivers eligible to compete in national and global championships, as well as the WRC2 category of the FIA World Rally Championship (WRC), from the second half of 2018.