Thierry Neuville and Nicolas Gilsoul dominated the Ypres Rally in their i20 R5, winning 15 of the event's 23 stages to take overall victory by 40 seconds.
For the current World Rally Championship leaders, the weekend in Flanders was only their second competitive event in the i20 R5
It followed their start at the same event twelve months ago. In returning to Ypres in 2018 the duo was able to take advantage of the upgrades developed by the Hyundai Motorsport Customer Racing department. They were applied to the i20 R5 in the last year. The upgrades include updated dampers, electronics and engine. Together these provided greater performance and a faster response from the car.
The crew set the best time on the Qualifying Stage run on Thursday night. After that, they elected to run second on the road for the opening day. Neuville and Gilsoul won seven of the first nine stages to establish themselves as the crew to beat. That was despite a minor scare at the end of the first loop of stages when the car needed to push from the regroup area in the centre of Ypres. Fortunately, the problem was easily fixed in the subsequent service. At the same time, there were minor set-up changes to further improve the handling for the following stages.
What a weekend! It's really nice to win @ypresrally with the #i20R5. We had a lot of fun and I really want to thank our Belgian fans for the fantastic welcome and support during the race ???? #HMSGOfficial pic.twitter.com/C3emCmfzER

— Thierry Neuville (@thierryneuville) June 23, 2018
With their car carrying a special livery promoting Belgium's Rode Neuzen Dag – Red Nose Day – event, the pair were the first on road for the four loops of stages on Saturday, running well into the evening.
Continuing to show the strong performance of the i20 R5, Neuville won a further seven stages as he improved his feel for the chassis with every kilometre
His consistency put him in position to begin the final leg of four stages with a lead of nearly 40 seconds over his and Nicolas' closest rivals. The crew was wary of the constant danger presented by the ditches that line many of the roads. Thus they elected a more conservative approach in the closing loop. Despite this, Beuville was actually able to add to the overall advantage to give the i20 R5 victory at the event where it made its public debut in 2016.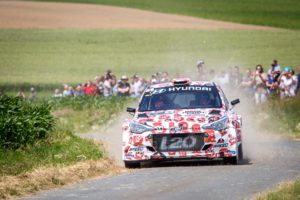 Thierry Neuville said: "To win in Belgium and after a performance like this is really good for me and shows how good the Hyundai i20 R5 is."
"When we started I didn't have much mileage with it, so I had to learn the chassis a little, but then we could make changes in service to the suspension and handling to constantly improve the car as I got more confident throughout the weekend. At the Ypres Rally you can always end in a ditch, so towards the end, we just wanted to avoid the mistakes and make sure we protected the lead."
Hyundai Motorsport Customer Racing Deputy General Manager Andrea Adamo added: "The Ypres Rally is always an important event in the rallying calendar in Europe, and this year was no exception. There were top crews representing all the R5 manufacturers, so the level of competition was incredibly high. To win in such dominant fashion is obviously a great advert of the Hyundai i20 R5 on one of the most difficult rallies of the year. For Thierry to get in the i20 R5, with such little running and be immediately on the pace shows the overall quality of the car, and the upgrades we have developed for this season."
Final Classification #YpresRally
1. Neuville & @nicolasgilsoul
2. Verschueren +40.4
3. Princen +49.1
4. Cherain +2:11.6
5. Bedoret +3:05.9
6. Fernemont +4:01.1
7. Kobus +4:20.1
8. Edwards +5:11.2 #HMSGOfficial pic.twitter.com/GqRUQ7HHi6

— Thierry Neuville (@thierryneuville) June 23, 2018