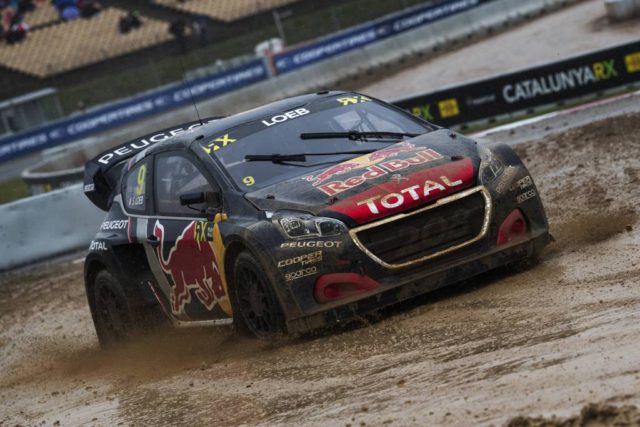 Peugeot certainly didn't have it easy as the newly-formed team tackled the first round of the World Rallycross Championship, with torrential rain swamping the Barcelona-Catalunya circuit on Saturday. Conditions improved on Sunday when nine-time World Rally Champion Sébastien Loeb made it through to the hotly-contested final and claimed second place: a richly-deserved reward for the whole Peugeot Team after several months of frenetic work since this new chapter was opened – not to mention an eventful weekend…
Sébastien Loeb took his 208 RX into the final at the end of a tough two days of competition
He finished second overall (after the disqualification of Mattias Ekström following a first-lap incident in the final) as Peugeot's best finisher, on the debut for the brand-new team. He achieved it thanks also to some solid teamwork, with Kevin Hansen (not eligible to score team points) giving up a grid slot in the semi-final to the nine-time world rally champion. Loeb finished second in the semis, buying him his place in the final, where the Frenchman showed his characteristic flair to seal a podium – despite his most recent competition experiences being in the sand dunes of South America and on the asphalt of Corsica!
"We've seen all the different emotions you can go through in rallycross in one weekend! I was a bit low at the beginning, and I didn't expect to go through to the semi-final as we were off with broken rear suspension twice in the heats. Then the decision came that I was going to go through to the semi-final anyway and from that point, everything actually went well. I had a bit of luck with me, but this sort of emotional rollercoaster isn't an easy one to live through! The pace of the car with Timmy is very encouraging as we can see that the car is competitive and that we've made a step forward over the winter. We're in the fight and I hope we can continue in this way", Loeb said.
Cette deuxième place au @CatalunyaRX est pour vous aussi @Timmy_Hansen et @kevinhansen71 ?? #TeamSpirit #PeugeotSport #WorldRX pic.twitter.com/PQZqgyS7Yq

— Sébastien Loeb (@SebastienLoeb) April 15, 2018
Timmy Hansen showed great speed all weekend but didn't get the chance to convert that into a result as his car stopped in the semi-final, while he was leading and pulling out a gap
The Swede took two-second places and a win from his qualifying heats, in appalling conditions, to comfortably go through to the semi-final as one of the best performers of the weekend. Despite the disappointment of not being able to complete it, he was delighted with the competitiveness of the car and the improvements made over the winter – and he's determined to take revenge on the next round.
"The only negative is that there were so many positives we weren't able to capitalise on! I felt very comfortable in the car all weekend: I was pulling out a gap in the semi-final and yet it was feeling so easy, almost with no real effort. Then the car stopped and that was it, which is obviously hard to take. But in the end, our car was really fast, really good, and we put together a fantastic weekend from the very start. It's a car that I'm able to fight with. I'm eager to get some revenge now on the next round in Portugal. I just want to get back into the car and try again", Timmy explained.
Kevin Hansen, driving a third 208 WRX that isn't eligible to score points for Peugeot was 12th after the heats but withdrew in order to hand his place in the semi-finals to Loeb
The youngest driver in the squad enjoyed two good heats on Saturday but was then affected by a technical issue that limited his ability to make a good start, so he fell behind. Nonetheless, Kevin proved his pace and also that of the 208 WRX.
"I think it was a good first race. I know this squad very well. For me, everything feels very normal. I have my same crew as last year, so I felt very comfortable, and I had a very good first day as well. I think I was very fast in Q1 and in Q2, and I enjoyed driving the car. But then we had a technical problem in the start. We dropped a lot in the overall standings and went back to 12th. As Seb was 13th, we decided to swap for the team. I already knew it could be like this last year, so I'm aware of the thought, it's not like it's something new. And the next round is only in two weeks", he pointed out.
Peugeot Sport Director Bruno Famin added:
"It was a very complicated weekend with some big twists and surprises. But we're pleased with the level of speed we've shown in all conditions and finishing the weekend in second place is extremely good news. We've shown that we're very close to our main competitors, which to be honest I wasn't expecting."
"Of course, I was really happy for the team as well, which was totally new and did a really good job. I think we succeeded in our first challenge in rallycross, which was to have the cars on the grid for all the races. Unfortunately, Timmy stopped with an electrical problem when he was leading comfortably, but that's motorsport sometimes: now we have to find the problem and solve it. I think we can feel confident for the rest of the season."
? REPLAY! Here's @SebastienLoeb final run abord the #Peugeot208WRX, which sealed the Frenchman's runner-up slot on the podium at Barcelona opening round of @FIAWorldRX. #BornReady pic.twitter.com/gVRi4OMp4G

— Peugeot Sport (@peugeotsport) April 15, 2018