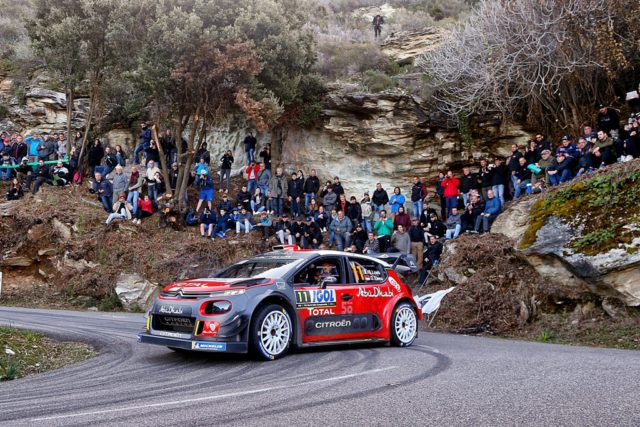 The Citroen team had a really difficult Tour de Corse which ended with 9th place for Kris Meeke while Sebastien Loeb finished 14th. Team principal Pierre Budar summarized that performance and pointed out the strong and weak moments.
How would you assess this first rally of the season on tarmac?
Obviously, the final result is disappointing and we were clearly aiming for a different outcome at out our home event. But it doesn't really reflect the performance level we had. Although the gaps became narrower on this surface, we managed to claim three stage wins in the heat of the battle thanks to Sébastien and Daniel [Elena], whilst Kris and Paul [Nagle] had just moved into a tie for second place with [Thierry] Neuville when they had their unfortunate off. The C3 WRC is clearly also very competitive on tarmac. We, therefore, had the potential to do well [at the Tour de Corse], which makes our two crews' incidents all the more frustrating. In Argentina, we will be determined to get some big points on the board.
Were you expecting Sébastien and Daniel to be in such good form again?
After their performance in Mexico, we were undoubtedly expecting them to be more or less on the pace on their favoured surface. But they were still at a significant disadvantage in comparison with their rivals, tackling several stages for the first time, including a few very long ones, that the others were already familiar with. So, I think it's fair to say they were amazing once again, despite lacking a bit of match fitness. I was probably most impressed by the way in which they returned to action on Saturday under Rally 2 rules. When there's nothing really at stake from a sporting point of view, you really need a champion's mindset to produce the kind of times they set on the second leg!
The team also showed great commitment and dedication on Saturday evening in repairing Kris and Paul's car so they could return to action on Sunday…
Yes, that's true. I'd like to pay tribute to the entire team for their hard work. They didn't hesitate to work until very late on Saturday night and into the early hours of Sunday morning, first of all, to recover our C3 WRC from the maquis and then repair it in record time. It was tough going, but it was a fine example of great teamwork and commitment! Especially as it was important for Kris and Paul to get back into the saddle quickly and put the previous day's misfortune behind them. Their good times on Sunday show that they have already put the incident to bed and that they managed to pick up the pace again, looking ahead to the forthcoming events where I'm sure they will be determined to put things right.
Let's have a look back on @TourdeCorseWRC which saw @SebastienLoeb – @DanosElena & @krismeeke – @paulnagle1 at a high level of performance contrasting by misfortunes! #WRC pic.twitter.com/uPgVmzwmY2

— Citroën Racing (@CitroenRacing) April 9, 2018