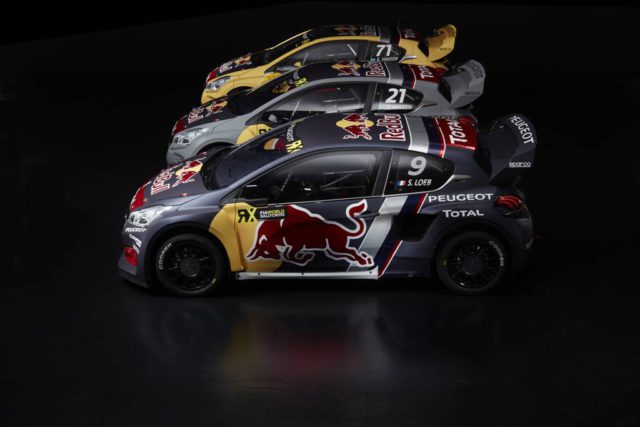 The FIA World RX season gets underway in Barcelona this weekend with Team Peugeot Total entering a new factory car for the first time. Timmy Hansen and Sébastien Loeb will get behind the wheel of the 560-horsepower Peugeot 208 WRX Supercar at the Barcelona season opener, while Kevin Hansen will drive an updated 2017 model that helped Loeb to fourth overall and Timmy to fifth.
Team Peugeot Total enters World RX as a full manufacturer entry for the first time with three cars in three different colours for Sébastien, Timmy and Kevin. Kenneth Hansen (14-time European RX Champion) is Team Manager with Susann Hansen (the only female champion in European RX history) as Sport Coordinator.
The Circuit de Catalunya in Montmeló, home of F1's Spanish GP, hosts the season opener with resurfaced asphalt for better grip and a brand new start section. The lap measures 1.133km using 60.4% asphalt and 39.6% gravel with the RX lap record standing at 42.971s – making it one of the fastest tracks on the calendar.
Bruno Famin, Peugeot Sport Director:
"We're a new team against some very strong and experienced opposition, with a growing level of manufacturer engagement. The first and biggest challenge we face in Barcelona is simply the one of preparing our own team – which has been largely formed from people whose most recent experience is in rally raids – for the very different demands of rallycross. There are plenty of new cars out there also, so the competition is tougher than it's ever been. This weekend will be mainly a question of learning and training for the team. Then, as the year goes on, we are going to build up experience and improve, with the aim of winning races in the second part of the season."
?"We're a new team against strong & experienced opposition. The 1st & biggest challenge we will face in Barcelona is simply the one of preparing ourselves for the very different demands of RX. We're going to build up experience & improve" – Bruno Famin about tackling @FIAWorldRX pic.twitter.com/8jAanvYQZU

— Peugeot Sport (@peugeotsport) April 10, 2018
Kenneth Hansen, Team Peugeot Total Manager:
"The feedback from the drivers is good and everyone is feeling positive. You can't make a revolution over the winter, but you can get better and so we hope to fight. It's sure that our rivals haven't been standing still either, so it's a difficult target and we have to be clever. There have been some big changes thanks to Peugeot coming in with some new people, but I see a huge eagerness and hunger from them for this fresh challenge, so Susann and myself are here to help them make this transition. Barcelona is a good track where you can really use the chassis and the engine. The new start section on the track is also a positive move I think, as it should lead to fewer incidents at the first corner."
"Our shakedown was good, and it was useful for me to get back into the rhythm of driving a rallycross car again, even if in the end it's quite different from a Dakar car or a World Rally Car, so I never have any big difficulty adapting from one car to another: it's what I've always done. The test is also a good opportunity to try out different settings to see what works best, knowing also that we will consistently be bringing in new developments to the Peugeot 208 WRX throughout the year. I'm looking forward to Barcelona; it's a nice place that I've always liked. In rallycross, it's always hard to set an objective in advance anyway, but especially at the first race of the season. So, I'm just going to do my best and see what happens."
Timmy Hansen:
"We are having a proper week-long build-up to the first race in Barcelona with a shakedown in France and then some testing. Obviously, you can't make any big changes in just a few days, but you can join everything together and iron out any little things that aren't perfect. The car feels quite familiar to me in a good way, as we've kept all the strengths from last year – with a really good balance and feel – but updated it in the areas where we wanted to find a bit more performance. Barcelona has always been a good track for me personally: I don't think I've ever had a bad race there. The surface is high-grip and should suit our car well, but in the end, we have to treat it as a race like any other."
Réparer, vérifier, changer, démonter, assembler. Répéter encore. Notre pilote WRX @Timmy_Hansen est né pour cela et nous aussi. #BornReady pic.twitter.com/yAuMIlUGue

— Peugeot France (@PeugeotFR) April 11, 2018
Kevin Hansen:
"I feel really excited to start the season! I tried my factory car during the shakedown and it felt good. Our recent tests are all about confirming the work that has been done over the winter and making some small adjustments so that we are completely ready for Barcelona. At the beginning of the season, I'll be racing a 2017-specification Peugeot 208 WRX but I am confident in the work that the Peugeot Sport team is putting in for the future. Barcelona is a track I really love: I have driven there in RX2 as well as Supercars, and it's where I took my European title in 2016, so I only have good memories. I'm feeling positive: this is a great place for us to start the season and I'm determined to make the most of every opportunity that comes my way."