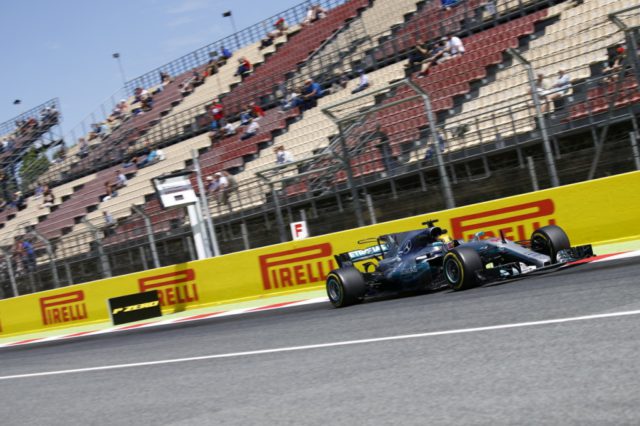 Lewis Hamilton won poleposition for the 2017 Formula 1 Spanish Grand prix. Next to him fn the grid's first row will be Sebastian Vettel (Ferrari).
Ferrari changed the power unit in Vettel's car as a precaution when the team detected a problem at the end of the last free practice.
At the beginning of qualifying the air temperature was 26 degrees, that of the track – 44. The choice for tyres was immediately for the soft compound.
Vettel thanked his team for the quick work in changing the engine. A few seconds late he was asked to stop the car. "Are you sure?", replied Vettel. The problem seemed to disappear as he made a quick lap for 1:20.939 min. Hamilton was faster with 1:20.511 (soft), and Valtteri Bottas was third (+0.480 seconds to his teammate, also with the soft compound) after their first series.
In Q2, the choice was again for soft tyres. Hamilton and Raikkonen first of the favorites started fast laps. The wind was getting worse, and on Friday's free practices it had a major impact on performance.
Lewis' time was 1:20.210 min, Kimi was 0.411sec behind him. Bottas took third before improving his time and getting closer – +0.090sec to his teammate. Vettel in turn completed a fast lap and it was only 0.085sec slower than Hamilton's.
Lewis Hamilton: "The fans are amazing and I have been growing here over past 10 years, amazing job by team. I could see the fans cheering and the flags were out and is a morale boost when it is not your home circuit."
In the decisive Q3 Bottas was first on track. His time went under the 1:20min, but he made a mistake in his lap. Hamilton was even faster – 1:19.149. Raikkonen and Vettel were third and fourth (+0,290 and +0,512 respectively), followed by Red Bull's Max Verstappen and Daniel Ricciardo (+0,618 and +1,116). Kimi was fastest in the first and second sectors and all his loss came in the last part of the track.
The Force India drivers, Felipe Massa and Fernando Alonso were waiting, as they would only make one stint in Q3. Fernando caused a storm of emotions on the stands when he appeared out of the pits.
In the final minutes Bottas again first of the favorites started a fast lap. The Finn did not improve his time, Hamilton as well. Vettel, however, jumped over Valtteri and set in second place (+0,051 sec)! Raikkonen stayed fourth in front of Verstappen and Ricciardo. Alonso was seventh!
PROVISIONAL CLASSIFICATION: END OF QUALIFYING

64th pole for @LewisHamilton ?

250th by a British driver ??#SpanishGP pic.twitter.com/abXVflwS8n

— Formula 1 (@F1) 13 May 2017