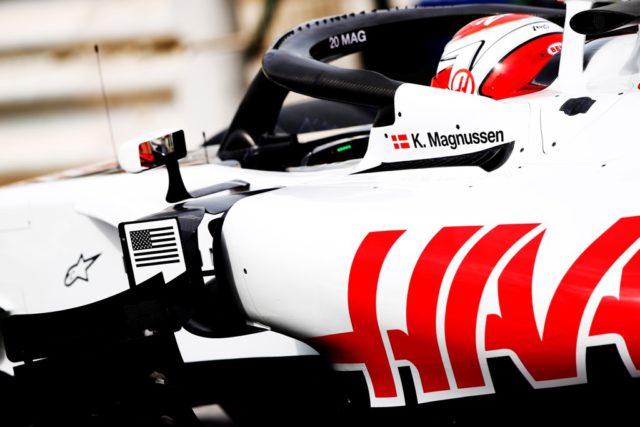 The third-year Haas F1 Team heads into the third round of the 2018 FIA Formula One World Championship this Sunday at Shanghai International Circuit intent on showcasing its speed in the Chinese Grand Prix.
Fresh off a fifth-place finish in last Sunday's Bahrain Grand Prix where driver Kevin Magnussen equaled Haas F1 Team's best result in its still young history, the American squad comes into Shanghai with points to show for the speed it has displayed since winter testing in late February and early March at Circuit de Barcelona – Catalunya.
Haas team boss Guenther Steiner previews the next round of the Formula 1 world championship.
China marks the second part of the season's first slate of back-to-back races as the series heads straight from Bahrain to China. With both being flyaway races, how difficult are the logistics of moving a team across continents when you only have two days to pack up from one venue and arrive at another?
"It's not easy. It's challenging, especially at the beginning of the season. It's more difficult because you have a limited amount of spares, so you need to be very careful what you send to Bahrain and that you've got enough to go on to China. It's not easy having a back-to-back at the beginning of the season, but we always say we're the best, and that's why we need to get it done, and that involves people working hard."
Finding and then holding onto the tires' proper operating window proved a challenge last year. How has it been so far this year?
"It is still a challenge. I think we know a little bit more, but a lot of it is down to experience. We're building up our database. It's still the biggest engineering project we have to sort out on a weekend."
For the first time in recent memory, Pirelli isn't bringing a sequential set of tire compounds. There's a jump between the Yellow soft tire and the Purple ultrasoft, with the Red supersoft not a part of Pirelli's lineup. How drastic is the difference between the soft and ultrasoft, and will drivers and their engineers miss that gradual change between compounds?
"I would say it's not a big issue – you just adapt to it. How big the delta will be – we'll just find that out when we get to the track. This is what you've got. There are big deltas normally between an ultrasoft and a hypersoft anyway. So, I don't think it will be a problem. It is, for sure, always an engineering challenge, but whatever we put on there, it is always difficult to get them to work and get the best out of them."
Overtaking, or a lack thereof has been a topic of late. What would you like to see happen to encourage more overtaking during a race?
"We shouldn't judge a season after just a couple of races. I would like to see at least four races under our belt because we shouldn't jump to a conclusion after the early races of the season. Working to make the cars more overtaking friendly – it's a good idea, but also we should avoid knee-jerk reactions."
Are expanding the DRS zones one way to increase overtaking opportunities? What are the pros and cons to that?
"I think it betters the situation, but it's marginal. It will never make up for having a car that is better suited to overtaking. Yes, it enhances the overtaking opportunities, but it does not drastically change them or better them."
Another DRS-related change to aid overtaking that's being discussed is outfitting cars with a larger rear wing flap, thereby creating a larger effect when DRS is activated. What are your thoughts on that idea?
"Again, we shouldn't judge after just a few races. I think if it is done with plenty of notice to change aerodynamic devices, I'm okay with that. Normally, when we make decisions to implement them quickly, we've always created more problems than benefits. So, let's study them properly, let's think about it, and then do something or do nothing."
When your drivers are behind another car, what does the "dirty air" or turbulence from that car do to their car? How does it affect their racecar?
"Following another car, basically the front wing gets no air, therefore you lose front-end downforce, which makes you understeer everywhere."
So, after talking about operating windows for your tires and DRS zones for overtaking, how does Shanghai shape up in terms of finding the right tire balance and being able to overtake?
"To find the tire operating window is always difficult. It's a challenge at every racetrack. Normally, our car likes it better when it's warm, so China is not likely to be one of our favourites. We will try hard to get them to work."
Stay strong. The race weekend is coming, fans. #ChineseGP pic.twitter.com/fUS9FG4RIL

— Haas F1 Team (@HaasF1Team) April 10, 2018