The Chinese Grand prix is the third round of the 2018 Formula 1 world championship.
Total number of race laps 56
Complete race distance 305.066 kilometres (189.559 miles)
Pit lane speed limit 80 kph (50 mph)
A quick turnaround and we're off to Shanghai! #ChineseGP #ForzaFerrari pic.twitter.com/j02iZdJYil

— Scuderia Ferrari (@ScuderiaFerrari) April 11, 2018
This 5.451-kilometer (3.387-mile), 16-turn Shanghai International Circuit has hosted Formula One since 2004, with last year's Chinese Grand Prix serving as the venue's 14th grand prix
Michael Schumacher holds the race lap record at Shanghai (1:32.238), set in 2004 with Scuderia Ferrari.
Lewis Hamilton holds the qualifying lap record at Shanghai (1:31.678), set last year with Mercedes in Q3.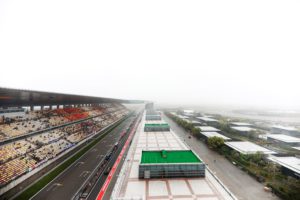 The Shanghai International Circuit is one of the many Formula One circuits designed by Hermann Tilke. It features a trademark cue of his – a long backstraight followed by a hairpin corner. The 1.4-kilometer (.869 of a mile) backstraight is the longest in Formula One. It is the equivalent of 11 soccer fields laid end to end, or the same length of three-and-a-half aircraft carriers lined up bow to stern. Current-generation Formula One cars surpass 320 kph (200 mph) on this straight, which is located between turns 13 and 14. Another distinctive aspect of the track is its "snail corners", which comprise turns 1-4 and turns 11-13. The high-speed straight combined with these sharp corners pose a conundrum for teams, as they must balance the amount of downforce needed to negotiate these vastly different aspects of the track.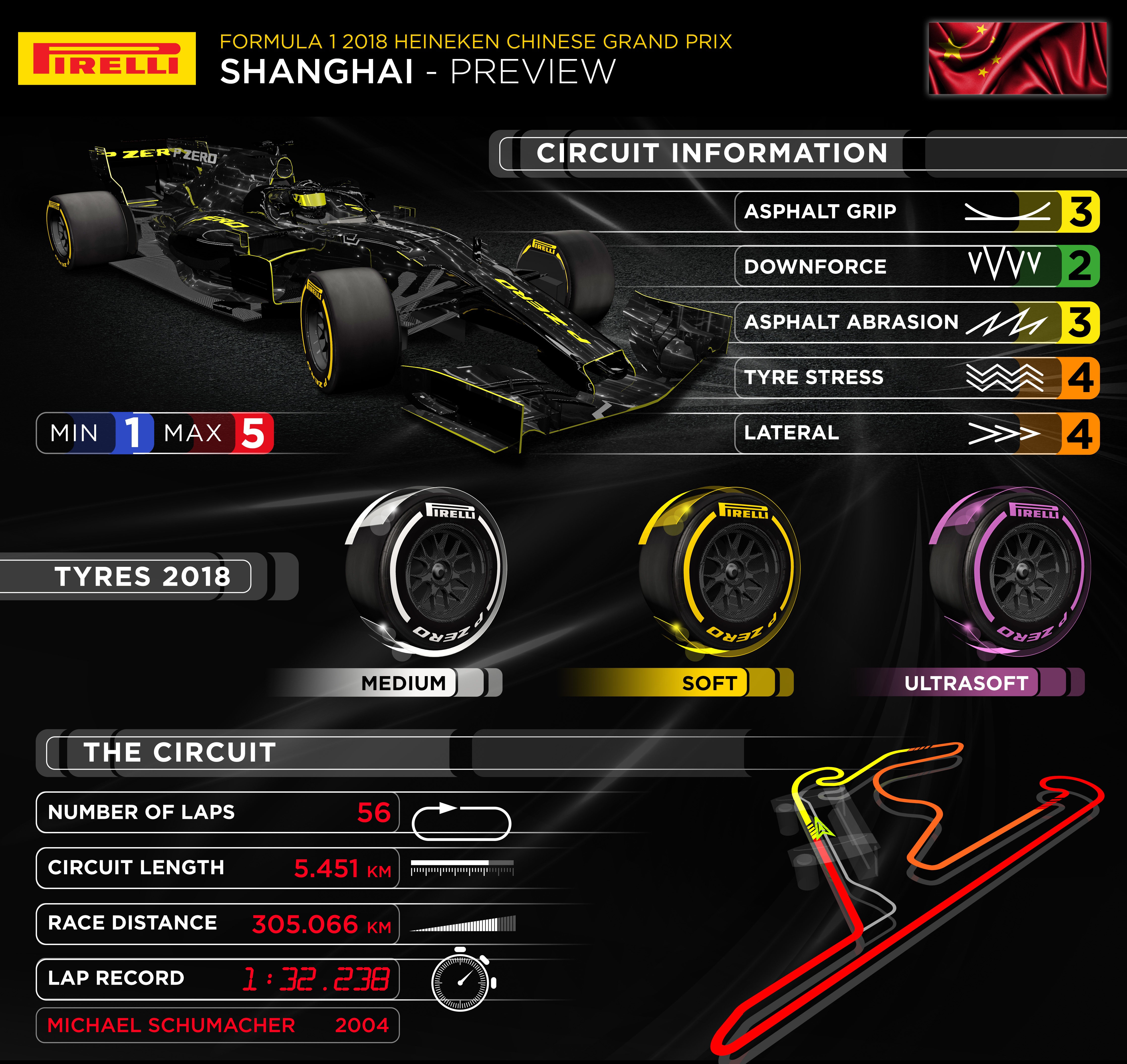 DYK? The ground on which the Shanghai International Circuit was built was originally swampland. But with a team of 3,000 engineers working around the clock, it took just 18 months to create the world-class facility.
What, you didn't think #F1 cars could do wheelies…? @AussieGrit pulled it off in China in 2012 ?#WheelieWednesday pic.twitter.com/e1pXo3ypkv

— Formula 1 (@F1) April 11, 2018
During the course of the Chinese Grand Prix, lows will range from 11-12 degrees Celsius (51-54 degrees Fahrenheit) to highs of 19-22 degrees Celsius (66-72 degrees Fahrenheit)
Relative humidity ranges from 51 percent (mildly humid) to 91 percent (very humid), with a dewpoint varying from 4 degrees Celsius/39 degrees Fahrenheit (dry) to 16 degrees Celsius/60 degrees Fahrenheit (comfortable). The dew point is rarely below -3 degrees Celsius/26 degrees Fahrenheit (dry) or above 20 degrees Celsius/68 degrees Fahrenheit (muggy). Typical wind speeds vary from 2-23 kph/1-14 mph (light air to moderate breeze), rarely exceeding 31 kph/19 mph (fresh breeze).
Tyre choice White Medium, yellow Soft, purple Ultrasoft
Toughest corner Turn One, a 270-degree right-hander. The cars turn in at 300km/h/186mph and scrub off speed as the drivers increase the steering angle towards a late-apex. The drivers are also braking through here; as the aerodynamic load comes off the car they have to be careful not to lock the unloaded inside front wheel
Unique difficulty Balancing straight-line speed with braking stability and cornering grip
The 1.17km/0.727-mile back straight is the longest of the season and to be competitive in the race, a high top-speed is vital. But take off too much downforce and the car will slide in the corners and wear out its tyres
Biggest challenge Keeping the tyres in their correct temperature range will be particularly difficult this year. Pirelli is bringing an eclectic range of tyre compounds: the Ultrasoft will act as a qualifying tyre, but there will be no Supersoft rubber and the cars will be forced to jump to a much harder compound at the pit-stops
There's no time to rest after that sensational race in Bahrain, as F1 heads straight to Shanghai for the Chinese Grand Prix this weekend ?

Here's all you need to know about the Shanghai International Circuit ahead of round three of the 2018 season ?#C4F1 ?? #ChineseGP pic.twitter.com/3IjwoUJpOF

— Channel 4 F1® (@C4F1) April 10, 2018
Braking There are eight braking events around the lap, which is relatively high, including one of the most severe braking zones of the season, into Turn 14, where longitudinal forces peak at 7g. But the long straights allow the brakes to cool, and that makes it a relatively easy race in terms of brake wear
Power The cars use 1.7kg of fuel per lap, which is average for the season
But such is the increase in full throttle this year, due to the increased aerodynamic downforce produced by the cars, every race is marginal on fuel without a Safety Car period
Aero The long straights encourage the teams to take off downforce. That makes the two 270-degree corners very tough because a precise front-end is crucial to a good lap-time