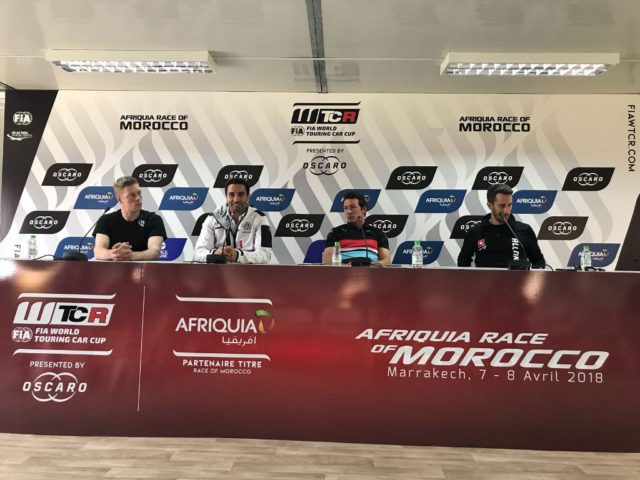 Mehdi Bennani, Thed Björk, Esteban Guerrieri and Jean-Karl Vernay on the new WTCR season and their expectations for the first race in Morocco.
Q: We start with Mehdi Bennani and it's fantastic you are here racing in your home country and bidding to win the FIA World Touring Car Cup in your Volkswagen Golf GTI TCR. But what about your chances, what can you achieve?
MB: For sure we hope something strong because we work very well with my coach over the winter and we see in the previous years in the WTCC that we have a good pace, we have good fights. We have also some wins last year and I think we hope we can be strong and fight with all these great drivers. For sure here in Marrakech, it's something special because everybody is expecting a strong result from a Moroccan driver and I hope we can have a good result here in Marrakech.
Q: The last time you raced here was in a Citroen C-Elysée WTCC and now you're in a Volkswagen Golf GTI TCR. What are the big differences you've found in pre-season testing?
MB: Speed! It's a little bit less but for sure the car is very nice to drive, it's drivable but to make it quick and fast it's very, very tough. It's going to be tough to put on the limit like a TC1 car and to fight with all these drivers, all these champions are going to be very nice for all the people who are around us from outside. The winner will be different from each race, that's going to happen.
Q: Turning next to Thed Björk, as always you seem very calm, very relaxed but ready for battle. Is that how you feel inside?
TB: Of course, really ready for battle and I look forward to it because finally, we are going to go out and drive. I remember last year the feeling before the first race because all drivers are a little bit nervous and so on but I look forward to going out now and getting it on.
Q: Now you've obviously raced here a few times before but you've now got 25 cars on track at the same time so what's the racing going to be like on Saturday and Sunday?
TB: It will be a little bit tougher than last year because there are more cars and more fights in the whole field, it means there will be some safety cars I don't know although we didn't have so many in racing situations last year. But for sure many of the drivers want to show how good they are and maybe some of them will take more risks. It will be interesting to see. Like Mehdi said there are many drivers who are going to win races so it will be an interesting season.
Pre event press conference.
?What do you expect, Thed?
"It will be tough, more fights, more risks.. it will be a very interesting season!" #WTCR pic.twitter.com/jxmeSHTa3W

— FIA WTCR / Oscaro (@FIA_WTCR) April 6, 2018
Q: Turning next to Jean-Karl Vernay, unlike Mehdi, unlike Thed and unlike Esteban, you've never actually raced at this track before. I guess you've spent a bit of time walking the track and trying to acclimatise to the challenge ahead. What do you think to the layout of this track?
JKV: I like this circuit, I like street circuits, I really do. I've raced at Macau and in America on all these street circuits and I've always had good results so I don't see why it's going to be different this year. I like it, it's fun, a lot of big braking, for sure it's not going to be easy to overtake but let's focus on practice because qualifying is going to be important and we will see. I have a great car, great sponsors involved and I really have faith in my team so I should be okay.
Q: And the expectations don't stop there because you're the TCR International Series champion from last year. Is there an expectation you have to win again this year?
JKV: I think it's a target. When you are racing for Audi the target always has to be to win. We know it's going to be tough. There are great drivers, we said it for the last few weeks. We just have to focus on our job and that is all. We'll see tomorrow in first practice, we'll see in qualifying which is going to be the fastest. There are 30 races and a lot of guys are going to win and you have to be clever and score a lot of points. We'll see in Macau.
Q: Turning next to Esteban Guerrieri, this time last year you were winning your first race in the FIA World Touring Car Championship. Just remind us of some of the emotions from that day when you took the lead and won the race?
EG: It was actually quite a special start of the year because two weeks before that I didn't know I was going to race here in Morocco. Then we managed to make an okay progression until qualifying. I remember there were some yellow flags in qualifying and we couldn't really explode our best potential but even though I could start in the front row it was really hot and I just took profit from Tom Coronel's brake failure. I took the lead and then I think you [turning to Thed Björk] were second. Thed wasn't really pushing that much because it was really hot and the brakes were difficult to manage.
.@E_Guerrieri won in Marrakech ?? last year. Now he's giving his insight on how to get the job done in the pre-event press conference. pic.twitter.com/RwlXpoS3t2

— Honda Racing WTCR (@hondaracingwtcr) April 6, 2018
As I could see he wasn't pushing a lot or trying to do anything silly let's say or ambitious, I was just trying to finish the race. It was a very big emotion because I remember Ruben Espin, one of the team owners of Campos, he said 'thank you because I've never been on a podium before'. That was really a great and sensational feeling. It was the beginning.
Q: How hard will it be to repeat that sensational feeling this weekend?
EG: The feeling comes after something good happens. The hard will be the work, not the feeling. There are many details we have to work to try to be spot on in many different areas. We depend a little bit on the weather tomorrow because it's going to rain in the morning and so it might change a little bit the strategy for all of us. In qualifying it's going to be really difficult with so many cars, mainly in Saturday qualifying because we are going to be altogether on the race track.
Blocking, without intention, is going to be one big part of qualifying and we are going to see how we can handle this. There will be a lot to do with the engineers outside so communication has to be really, really good. It's going to be a key point for all the weekend. Hopefully, we can do that properly. I have a good feeling from the Honda Civic Type R TCR so I will try to be on the limit around this race track, which is very challenging.
Questions from the floor:
Q: From Ahmed Darouiche (Auto Mag, Morocco) to Mehdi Bennani: tell us how you have prepared this winter, what special things have you done?
MB: This winter we had a lot of training with Philippe, I think everybody knows Philippe de Korsak. He's a great champion, a past champion, he's still okay as a driver and he gave me some great tough days of work. Winter was busy compared to my previous winter. We swapped to Lapland and for a Moroccan, this is something very special. Every time here have good weather and to go to Lapland it was minus 30 degrees, it was very special but it was nice to drive like this and also to fight, touching each other.
I feel more confident this year than in previous years and also have a lot of work with LMP2 cars to prepare something for the future. I think we are more ready this year, I hope so but you can never know how much we are but I hope this winter was much better than the others. All points are strong to work, I still have a lot to learn and it's good to have a coach like Philippe who can show me a good way how I can work.
Q: From Medhi Casaurang-Vergez (AUTOhebdo, France) to all drivers: do you think the BoP is fair or not because last week you were all a bit afraid about the BoP?
EG: You cannot say now if it's fair or not because we haven't been on the track yet of course. I think the FIA and the TCR organisers have done a very good job. I was at the TCR test in Valencia, I was watching so I could see how they did it. They tried to get all the performance of the aero, of the mechanical, the power of the engine. So I can guess quite certain they have enough information to put all together so it should be fine.
JKV: I think Esteban said everything. You can't judge a lot the BoP because we are not on track yet. And we will see a bit more this weekend. But things should be fine. Let's see because there are new cars, everybody is expecting a lot from the new Hyundai and the new Honda as well. We know the consistency between the other cars. The big question mark concerns the Honda and the Hyundai. But I am pretty confident with the job the FIA and the guys from the TCR did in the winter. We should have good racing on track.
Bennani, Björk, Guerrieri and Vernay on the new WTCR season
MB: We trust everybody on the FIA. They have done well with the regulations. And we will see after first qualifying if people are happy with the BoP or unhappy about the BoP. That will mean what work has to be done with the times but everyone trusts with the FIA.
TB: I cannot say anything because I have no experience about it. But usually, after all these years of racing, it's the best driver and team that wins the championship even though there are these circumstances with the rules. I still think I can sit here in the end in Macau and say that was the fastest driver and team that won the championship.