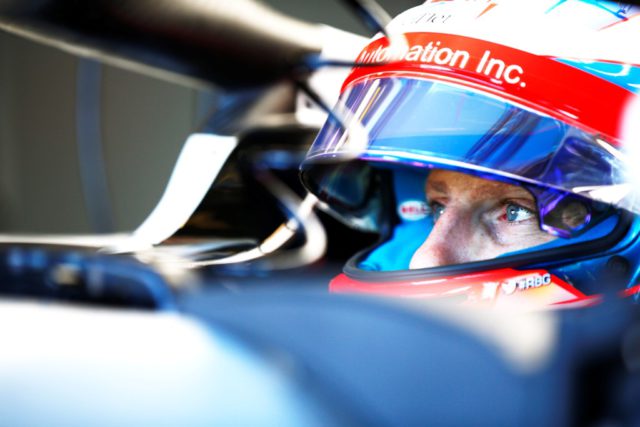 Romain Grosjean is optimistic for the next Grand prix in the 2018 Formula 1 world championship. The Haas driver explains what he felt after his Australian retirement and what he expects in Bahrain.
The Australian Grand prix was shaping up to be a milestone race for Haas F1 Team. How do you rebound from such a difficult set of circumstances, especially when the result could've been so rewarding?
"Well, put it this way – I'd rather retire fighting for fourth or fifth position than finishing every race in 15th position."
Despite the massive disappointment in the outcome at Australia, you made it a point to find each crew member, shake their hand and essentially say we're in this together. How were you able to shake off your own disappointment and be there for your crew?
"It's a team sport, and I believe my team has always been there for me when I needed them. Everything is pushed to its maximum –the driving, the engineering and the pit stops. Mistakes can happen. We're a team, and I was happy to be there for my boys, as I know they're happy to be there for me when I need them to be."
The silver lining in Australia was that the Haas VF-18 had speed. How comforting was it to carry the speed from winter testing into the reality of the Australian Grand prix?
"It was great, it was amazing, and it gives us a lot of hope for the future. Obviously, we need to see how it goes on different circuits, but I think it's a very positive start. We're all very much looking forward to going to the next race."
How did the car feel throughout the Australian Grand prix – from practice and qualifying and on into the race?
"It felt good. We've got a very good baseline and we know already where we can improve the car. We're working on that. It's exciting to see that we focus on getting some good performance from the car, rather than just trying to survive or be at the back. I think we're in a good place. We can't wait to get back racing."
More specifically, can the speed you displayed in Australia carry over to Bahrain?
"Time will tell, but I'm hoping so because it's much more fun fighting at the front of the field than behind."
How important is it to have a strong finish in Bahrain, where the disappointment from Australia can be forgotten?
"A good result will help us to forget Australia. Let's get to Bahrain, let's do our work, like we did in Australia, focus on our jobs and see where we are at the end. Hopefully, we can have another good surprise."
— Romain Grosjean (@RGrosjean) March 26, 2018
In six career Formula One races at Bahrain, you've had five points-paying finishes, including two podiums (back-to-back third-place finishes in 2012 and 2013). And in scoring those podiums, you came from seventh and 11th on the grid. In fact, in every race you've picked up positions from where you qualified – 24 positions in all. Is there something about Bahrain that plays to your strengths?
"I love driving in Bahrain. I've always had a good feeling there, and I think it's a really exciting track for racing and overtaking. We'll see how it goes again. As I said, it's always given me a good feeling, and I'm hopeful I can keep it going."
You've proven that you can overtake at Bahrain. Where do you overtake and how do you do it?
"It's one of those tracks where there are many opportunities to overtake, which is amazing. Obviously, there's turn one, but turn three, turn 11, turn 15 – they all make it probably one of the best circuits for racing."
The amount of run-off area at Bahrain is high. Does that allow you to push the limits of your car and its tires more than at some other venues?
"It's certainly easier to find braking points in Bahrain than it is in Monaco or Singapore. You know if you miss it, or overshoot your braking point, you're just going to go straight and have another go on the next lap. Some street circuits it's straight into the wall. It's a bit easier to get used to it and find the limit."
Are you able to learn more at a venue like Bahrain because you're able to push harder and discover a car's limits?
"I think once we're on the racetrack, we push it all the time to the maximum, especially in qualifying. We just need to see how we go at different circuits."
With the race beginning in the late afternoon and ending at night, how much does the track change as the air and track temperatures cool?
"That's the big challenge of Bahrain, as it is with Abu Dhabi. It's something you really need to work on in FP2. You have to make sure the car works well in warmer conditions and then in the cooler conditions later in the day."
"I quite like turns five, six and seven. They're high-speed as you approach the downhill hairpin. You get a good feeling. The corners are flying together."
Weekend = sitting behind the wheel ???@ZippSpeed pic.twitter.com/pEvTNRHnl5

— Romain Grosjean (@RGrosjean) March 30, 2018
Is there a specific portion of the Bahrain International Circuit that is more challenging than other aspects of the track? If so, why?
"Turns one and two are pretty challenging. It's a busy hairpin with big braking. Then you really want to go early on the throttle as you've got a long straight line. Turn two is always a bit tricky on the rear end."
Explain a lap around the Bahrain International Circuit, especially now after having competed there with the faster, current-generation car.
"I think the biggest difference with the new generation of car is at turns five, six and seven. Later it's (turns) 11, 12 and 13 – a series of mid- to high-speed corners where we carry much more speed than we used to. Those are the places where you have the biggest differences and you can gain quite a lot of lap time. When you carry more speed, it means there's less margin for error. You just have to go faster and get more feeling."