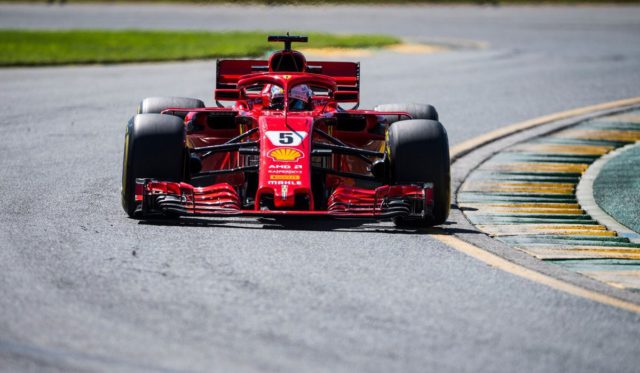 Sebastian Vettel won the opening race of the 2018 season, the Australian Grand Prix in Albert Park, Melbourne.
The Ferrari driver had bided his time before taking the opportunity of a safety car period to get a jump on longtime race leader Lewis Hamilton. Kimi Raikkonen completed the podium line-up with third place ahead of Red Bull's Daniel Ricciardo.
It had looked set to be a dream day for Haas, with both cars running in the top six in the early laps. However issues with the team's wheel guns meant both cars had to retire with improperly attached tyres. Romain Grosjean's exit triggered the critical safety car that elevated Vettel to the front.
The top three cars all got good launches off the grid. Hamilton was able to thwart any ideas from the two Ferrari drivers. Although he certainly had his hands full repelling Raikkonen into turn 3.
Max Verstappen attempted to jump the Ferraris into the first corner, only to get chopped by Vettel. That allowed Kevin Magnussen to pass him for third place, leaving the Dutchman fuming. He set about harrying the Haas to little effect, and the frustration boiled over on lap 10 when the Red Bull caught the kerb at turn 1 and went for a tidy spin dropping him to eighth place.
His team mate Daniel Ricciardo was having a better afternoon, pulling off a daring late-breaking move on Renault's Nico Hulkenberg into turn 13 for seventh place on lap 5. Valtteri Bottas, also out of place on the staring grid, made a modest gain of his own when the Mercedes successfully overtook Force India's Esteban Ocon through turn 3 on lap 9.
Th first retirement of the season came on lap 6 when Lance Stroll pulled the Williams over with brake failure. A lap later and Marcus Ericsson day was also over, retiring in the pits after losing power steering. Pierra Gasly was the next to drop out when he suffered a power unit related issue with the Honda engine on lap 15.
By this point, Hamilton has a 2.5s lead over Raikkonen who had a similar advantage over Vettel. The three had pulled out a big margin over Magnussen in third – big enough for Raikkonen to pit on lap 19 for a set of soft compound tyres and still come back out in third place. Hamilton responded and followed suit the next time around – but crucially, Vettel stayed out and took the lead.
Verstappen had just pitted on lap 22 – the supersoft gambit having failed to yield much of an advantage – when the complexion of the race abruptly changed. Magnussen dream day ended in despair. He had to pull off after a problem in his own pit stop resulted in the left rear tyre being improperly attached. Moments later and the nightmare got worse for Haas when Romain Grosjean also stopped, this time with a left front issue.
Grosjean was unable to get the car into a safe position, forcing race control to declare a Virtual Safety Car on lap 25.
Vettel saw his opportunity: while the rest of the field was observing strictly mandated speed deltas on the track.
Hhe was able to dive into pit lane for his deferred pit stop. When he emerged, he was ahead of a stunned and dismayed Hamilton.
The VSC was converted to a full safety car before the race finally resumed on lap 31. Vettel was able to control the restart with Hamilton and Raikkonen pressing hard. Ricciardo had also benefited from a pit stop under the VSC and was up to fourth place followed by McLaren's Fernando Alonso.
Hulkenberg took the restart in sixth but quickly succumbed to Verstappen, despite the RB14 carrying damage from his earlier pirouette. Rounding out the top ten were the Stoffel Vandoorne, Bottas and Sainz.
Hamilton's efforts to take the fight to Vettel were thwarted by orders from the Mercedes pit wall to lift and coast because of temperature issues. He remained clamped to the back of the Ferrari but could find no way past. It was small consolation for Hamilton that he was gradually pulling clear of Raikkonen. Kimi was busy protecting his podium finish from Ricciardo.
It was a big gap after that to Alonso. He tried to hold off Verstappen for fifth place. Bottas' forward progress had stalled in eighth place ahead of Vandoorne, while Sainz was grimly holding on to tenth place despite complaining of nausea from the on-board hydrating fluid.
The Force India cars of Sergio Perez and Esteban Ocon were nipping at the Spaniard's heels. But they were unable to break into the points. Behind them, Sauber's Charles Leclerc was having a quietly impressive Grand Prix début running ahead of Williams Lance Stroll.
Last place went to Brendon Hartley. Toro Rosso's odd gambit of a first switch to soft tyres failed to yield results and left him a lap down by the finish.
INITIAL CLASSIFICATION – LAP 58/58

Sebastian Vettel takes his third win in Australia

And with it takes his ?th career podium!#AusGP #F1 pic.twitter.com/OekaE51XBO

— Formula 1 (@F1) March 25, 2018