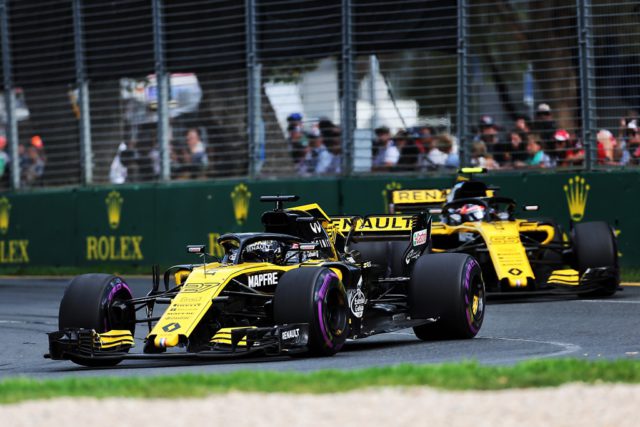 Renault Sport Formula One Team opened up its 2018 account with both Nico Hulkenberg and Carlos Sainz finishing in the top ten in the Australian Grand prix. Nico started from P7 on the grid and finished in that same position whilst Carlos started ninth and finished tenth. Both drivers ran to a one-stop strategy in a race where all the Renault-powered cars finished in the top ten.
"We should be pretty happy", Hulkenberg commented. "The pace of the car was strong and competitive, but we know we still have a lot of work to do. I'm happy with how the weekend has progressed. Friday wasn't great for me, but we've turned it into a decent result and a satisfying Sunday. We got lucky with retirements, but also unlucky with the safety car, but that's racing and taking six points home is a just reward for the team's hard work."
Excited about the very tough kids here in the Migrant Learning Center in Mae Sot. I really enjoy the sporty spirit and friendly atmosphere. Thanks to all the kids and the whole @RightToPlayIntl team who are making this experience special. #PowerOfPlay pic.twitter.com/BgTfSg9Jxa

— Nico Hülkenberg (@HulkHulkenberg) March 28, 2018
Renault Sport Formula One Team opened up its 2018 account with all Renault-powered cars in the top 10 the Australian Grand prix
Carlos Sainz also said it was a positive start for the team while he was very happy with the car's performance.
"It's a good job to take home a strong haul of points and we have something to build on ahead of Bahrain. Personally, I struggled a bit out there as had a drinks bottle issue. The result was making me feel pretty unwell. The first stint was also a bit difficult with too much oversteer on the car, especially as there was a lot of wind out there today. We keep learning and we'll be putting the work in ahead of Bahrain", Sainz explained.
"It's a satisfying result. Not perfect by any means, but it shows we're in line with our targets of making progress. Clearly, for a good result, everything must be smooth, from pit stops to reliability and this double top-ten finish illustrates a solid start to the season", Managing Director Cyril Abiteboul said.
"The result gives us something to build on. In the race, the safety car hurt us slightly, but that's racing and sometimes these things benefit you. Our focus on reliability has been illustrated with all Renault-powered cars finishing inside the top ten, which is a good positive. We know it's going to be extra tight in the midfield battle, and that motivates us to keep working hard."
"How does it feel to drive an #F1 car? What is it like from your point of view?"
We've heard those questions asked so many times. To answer, Carlos Sainz takes you from morning to driving. Enjoy. #RSspirit pic.twitter.com/jjVLzuItu9

— Renault Sport F1 (@RenaultSportF1) March 28, 2018