Jaguar unveiled plans for a fully-electric support series. The Jaguar I-PACE eTROPHY will be a part of select races in Formula E.

The Jaguar I-PACE eTROPHY would be the first production battery electric vehicle racing series. It will feature cars based on Jaguar's first battery electric vehicle: the Jaguar I-PACE performance SUV, which hits the road later next year.
The I-PACE cars will compete on the same circuit layout as the stars of the electric street racing series. The planned schedule consists of a practice and qualifying session, followed by a 30-minute race.
Introducing the #IPACE #eTROPHY the world's first international race series for production-based electric cars. #JaguarElectrifies pic.twitter.com/0bVkrKSq4h

— Jaguar Racing (@JaguarRacing) September 12, 2017
Alejandro Agag, Founder & CEO of Formula E, said:
"We'll be adding to our race day schedule a competitive new support series for season five – the Jaguar I-PACE eTROPHY. I hope Jaguar will allow me to bring my race suit and helmet… And maybe get behind the wheel myself!"
The Jaguar I-PACE eTROPHY will offer a complete 'Arrive and Drive' package for 20 drivers at each event
Technical specifications, schedule and participation costs will be available in 2018. Venues and calendar are subject to FIA approval.
The Jaguar I-PACE went onto the streets for the first time in March 2017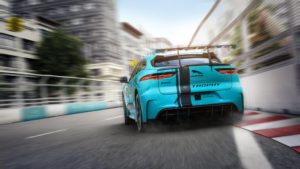 The I-PACE will accelerate to 60 mph in around 4 seconds. Its range is more than 500km (NEDC cycle) from the 90kWh lithium-ion battery. Charging is easy and quick: 80% in just 90 minutes (using 50kW DC charging).
The Formula E first championship was in 2014/2015. Racing takes place on temporary circuits n the streets of some of the biggest cities in the world. Sebastien Buemi has the most wins in the series – 12. He was also Formula E champion in the 2015/2016 season. The first driver with "the electric" crown was Nelson Piquet jr. In 2017 Lucas di Grassi became Formula E's third champion.