The new-for-2018 WTCR – FIA World Touring Car Cup presented by OSCARO is proving to be a big success with a number of notable achievements during the first five events of the season compared to the FIA World Touring Car Championship in the same period last year.
Marketing research over the first half of the season conducted by WTCR OSCARO promoter Eurosport Events reveals that considerable gains have been made in areas including broadcasting, digital, media relations, social media and spectator attendance at races.
Broadcast
Compared to the year-on-year figure from 2017, the total Eurosport audience across the first five WTCR OSCARO events has risen by 22.8% with a reach of 124 million, while broadcast time has increased by 16.5%.
Live coverage, in addition to the Eurosport network, is available in four continents, which boasts 20 million users. Highlights packages are also distributed internationally.
The total programme distribution of WTCR OSCARO reaches 188 countries worldwide. An overall international media report is currently being carried out by the Nielsen Media group.
Digital coverage
In total, 5939 articles* have been published online across the first five events in 2018. That is an 89% increase, with a reach of 3.06 billion representing a 166% increase. In addition, the attendance of national journalists at events has risen by 10%. The figures are partly due to the participation of wildcards at WTCR OSCARO races, such as DTM champion René Rast at WTCR Race of Germany and Prince Bernhard van Oranje at WTCR Race of Netherlands. *Source: Meltwater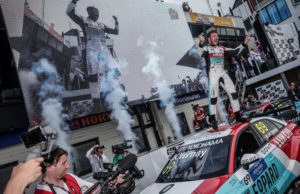 Social media
WTCR OSCARO is proving a big hit among social media audiences with more creative, exclusive and engaging content captivating fans. Since the championship launch in March, the combined social media video views has increased by 53.7% with 12 million views. The biggest social media engagement has been on Facebook with a growth of 110%.
Eurosport Events has put a focus on Instagram STORIES for the first time with 5.176.000 views so far in 2018.
Spectator attendance
617,000 spectators have attended WTCR OSCARO races so far this season including increases at Hungaroring (46,000), Nürburgring (215,000) and a new record at Zandvoort where 110,000 attended, the largest amount since the venue hosted the Dutch F1 Grand Prix in 1985.
François Ribeiro, Head of Eurosport Events, said:
"Even though WTCR OSCARO is in its infancy, it has already made a big impact around the world with more viewers, users and fans than during the final year of the FIA World Touring Car Championship. The figures reflect the widespread appeal of WTCR OSCARO generated by packed grids, entertaining racing from some of the best touring car drivers in the business. Eurosport Events has been very active in promoting the series across all media platforms. And with the Asia leg of the championship to come, we look forward to widening the impact and achieving more return for our stakeholders."
The championship will continue with the Race of China-Ningbo from 28-30 September. A week later is the Race of China-Wuhan, on the city's exciting street track from 5-7 October.
In case you missed this… What a weekend in Slovakia! ?? Sit back and watch the best shots from the weekend. #WTCR https://t.co/sNmJ9FM5he

— FIA WTCR / Oscaro (@FIA_WTCR) July 16, 2018