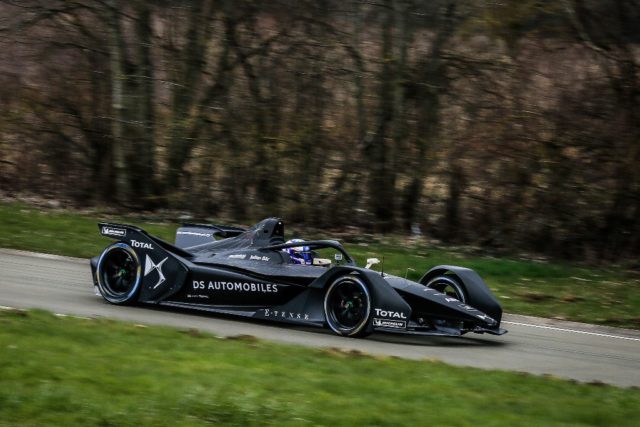 After its unveiling on 6 March, at the time of the Geneva Motor Show, DS E-Tense FE 19 has now made its very first real run.
The staff at DS Performance have spent many months working on innovative technical solutions in readiness for the imminent revolution to the FIA Formula E Championship since Season 5 of the all-electric international series is scheduled to kick off later this year with a field of new-generation cars.
DS E-Tense FE 19's combination of a 250kW power unit and 54kWh battery will allow it to complete races without the mid-ePrix car swaps that have been part of the series until now. Brake-by-wire systems and an increase in maximum power regeneration to 250kW will be other new features of the 2018/2019 championship.
DS E-Tense FE 19 has now made its very first real run
Xavier Mestelan-Pinon, Director of DS Performance operations, said: "
With just days to go before Formula E's first official pre-season 5 test, it was great to see the DS E-Tense FE 19 run at our test track in Satory. The car's different assemblies had previously been tested on the bench but this is the first time the fully assembled car has turned a wheel. Starting it was a rewarding moment for the team's technical staff. It was certainly an occasion to remember."
DS E-Tense FE 19's release coincides with the impending launch of a new range of electric powered DS vehicles. DS 7 Crossback E-Tense 4×4 will be the DS brand's first model to feature the E-Tense system which comprises a petrol engine and two electric motors for a peak power output of 300 horsepower.
Any guesses who's running in our car today? #FormulaE pic.twitter.com/yH8FTnHlxp

— DS Virgin Racing (@DSVirginRacing) March 22, 2018
You'll be able to find out who it is soon! #FormulaE pic.twitter.com/0j66IhEuuI

— DS Virgin Racing (@DSVirginRacing) March 22, 2018