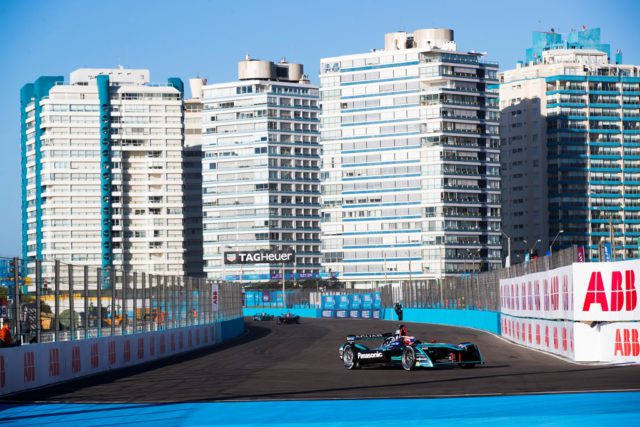 Panasonic Jaguar Racing raced to another fourth place finish in the ABB FIA Formula E Punta del Este ePrix showing the team's continuous improvement since entering the electric street racing series. A rollercoaster qualifying session saw Mitch Evans go through to his second super pole shoot out of the season with the third fastest time. Teammate Nelson Piquet Jr suffered damage to his car after hitting one of the circuit's unforgiving walls. In super pole, Mitch put his Jaguar I-TYPE 2 third quickest before a technical infringement pushed him back to 16th on the starting grid.
Both Nelson and Mitch made encouraging starts to the race, moving forward together, before a safety car on lap five paused progress. Unfortunately, Nelson suffered a technical issue shortly after and had to retire before the end of the race.
Mitch was soon into the top ten and by lap eighteen he was well-placed for more points. Following a quick pit stop, he sat sixth with less than fifteen laps remaining. He completed one of the overtaking moves of the day, on the inside of Alex Lynn at the daunting turn 13 to cross the line in fourth.
Evans has moved up to sixth in the driver standings. Nelson remains one place higher in fifth.
???? Drive of the day for @mitchevans_ finishing P4 after climbing up the pack from P16. #JaguarElectrifies #PuntaDelEsteEPrix #RaceToInnovate pic.twitter.com/ePKsHAzfdD

— Jaguar Racing (@JaguarRacing) March 17, 2018

"Finishing fourth is a reward for a lot of hard work", Team Director James Barclay said
"The Jaguar I-TYPE 2 can race at the sharp end of the grid we were just unlucky with Mitch's penalty. We paid a big price for a very small infringement but the rules are clear. Starting sixteenth and finishing fourth is phenomenal and shows that as a team we are capable of more for the rest of the season. We'll take the positives, look forward to Rome and competing for more points in Europe."
Mitch Evans also stated that his performance was a really good recovery
"It's a little bit frustrating as we could have pushed the guys at the front if we started up there but it gives us confidence for the rest of the season. It was a sprint race and I enjoyed racing hard. Unfortunately not a podium but we're looking forward to Rome and we'll give it our best", he added.
??️ Poetry in motion from @mitchevans_#WorldPoetryDay pic.twitter.com/IrDibvMjCa

— Jaguar Racing (@JaguarRacing) March 21, 2018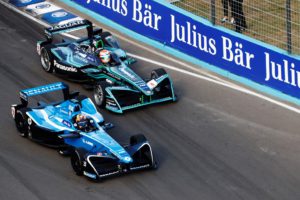 Nelson Piquet Jr thanked the team for put together the car after qualifying.
"They did an amazing job. I made a decent start in the race but then after contact, I had a broken driveshaft. With so much potential we go to the European leg of the series with a great deal of optimism", Piquet said.