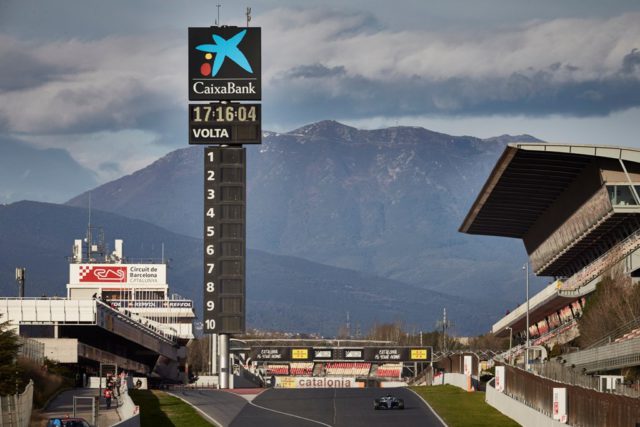 Mercedes, McLaren and Ferrari's reaction to the second day of F1 pre-season testing.
Mercedes
Lewis Hamilton (2nd time, +0.023sec to 1st, 66 laps)
"Today's been a really positive day. It was an easier morning and we started off on the right foot. Yesterday, there was an element of brushing off the cobwebs, it being the first day in the car, so it took a little longer than normal to really acclimatise in the car and to find exactly where to exploit the its ability.
"I didn't do a huge amount of laps today but I got a really good feel for the car. I think we've made some steps forward in development. My quick lap felt fast and tidy. We've not really exploited the potential of the car, so it's all good foundation building at this stage.
"These new tyres seem to be lasting a lot better than they did previously, so I think you can push them more and fight harder, lap after lap, so that's a good step in the right direction.
"I'm finding the car is much more physical to drive than in the past. It's so much faster in the corners. The force you feel on your body and on your neck is much higher. I've got bruises and bumps where I've never really had them before. Physically I feel fine though, as it's only half a day of testing. I've trained enough over the winter to be ready for more."
Valtteri Bottas (7th time, +2.026sec to 1st, 102 laps)
"I think it was another good test day for the team. We did so many laps again and completed all the runs that we had planned to do.
"I worked on race simulations this afternoon. It was quite tricky with the windy conditions but I'm sure that we can learn a lot from the data.
"I had a small off but it wasn't anything serious – lost the rear end with a gust of tail wind that was quite sudden. This is testing – you need to find the limits.
"It's interesting to learn more about the new car – not just for me personally, but for us as a team. All the set-up work we've done has been very valuable. Two more days to go – I'm looking forward to it."
168 laps for the Silver Arrows on Day 2 in Barcelona ?@LewisHamilton = 66 laps@ValtteriBottas = 102 laps

Not a bad day's work, boys! pic.twitter.com/cSPhcGJbHd

— Mercedes-AMG F1 (@MercedesAMGF1) 28 February 2017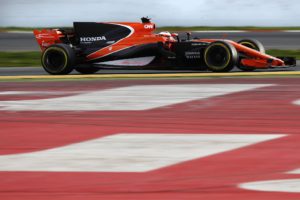 McLaren
Stoffel Vandoorne (10th time, +4.640sec to 1st, 40 laps)
"It wasn't the best day of running for us, but I'm pleased that despite the issue we still managed to get some laps on the board – I was very happy to get behind the wheel after four months without driving. It's important with a new car and a new design that you can step into the cockpit for the first time and feel confident to push, and I immediately felt comfortable in the car, so that was definitely a positive for me.
"The initial feelings this morning were quite good, then unfortunately we had a loss of power, and we're still investigating what the issues were. The first two days have been a bit difficult, but the team has done a great job to get the car up and running again so we could get back out on track.
"There are still more days of testing this week and every lap in the car is valuable; it's my first season in F1, so during every lap I try to make the most of it. Hopefully tomorrow and Thursday Fernando and I will have a couple of better days."
Eric Boullier, McLaren Racing Director
"It's a shame we weren't able to maximise the track time today due to the issue with the power unit, but it was encouraging once again that the team pulled together to replace the PU quickly in order to enable us to return to the track at the end of the afternoon session.
"When you design a new car and power unit under new regulations, it's possible that there will be issues that arise that you cannot foresee in pre-season development. Of course, it's unfortunate, but the important thing is that we learn from them, and there is already a lot of hard work going on behind the scenes by Honda to identify the issues and rectify them as soon as possible.
"Testing is just that: the prove-out of new components prior to the start of the season. We'll continue with our planned test programme tomorrow with Fernando, and keep pushing to make the most of the day's running."
Yusuke Hasegawa, Honda R&D Head of F1 project
"After completing 29 laps, we lost power to the PU. Our priority was to minimise the loss of track time and continue with our testing programme, so we took the decision to change it. We know we had a mechanical issue and we will not be reusing the power unit for this test, but we'll have to investigate fully to identify the cause.
"Stoffel was back out on track by late afternoon and we were able to recover our schedule.
"Of course, it was disappointing to encounter further problems today, but tonight we'll carry on our hard work to make further progress for Fernando's session tomorrow."
Team talk. Fernando and Stoff chat between runs. #F1Testing pic.twitter.com/8dip5yU2ew

— McLaren (@McLarenF1) 28 February 2017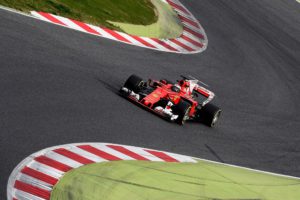 Ferrari
Kimi Raikkonen (fastest time, 108 laps)
#F1Testing Day 2: 108 laps total with Medium and Soft tyres for #Kimi7 pic.twitter.com/8m1j5BL77k

— Scuderia Ferrari (@ScuderiaFerrari) 28 February 2017