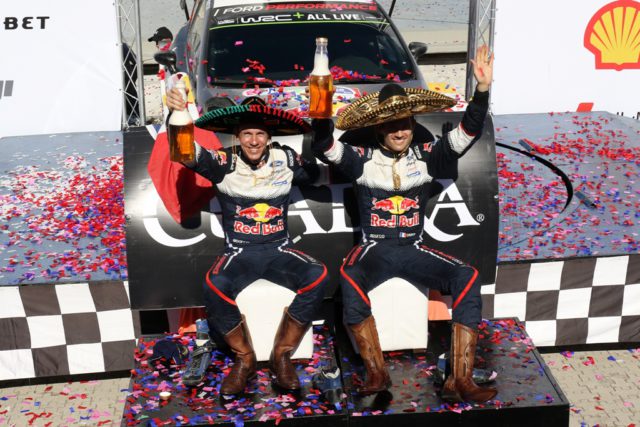 M-Sport Ford World Rally Team's Sébastien Ogier and Julien Ingrassia secured the EcoBoost-powered Ford Fiesta WRC's second victory of the year at Rally Mexico. The victory came 14 years after the Blue Oval's last Mexican triumph – when Markko Märtin and the late Michael Park piloted their Ford Focus RS WRC to the win.
But the Fiesta didn't just perform at the highest level. Strong performances in WRC 2 highlighted the effectiveness of M-Sport and Ford's 'Ladder of Opportunity.' Gus Greensmith and Pedro Heller secured second and third places in the category with their Ford Fiesta R5s as well as their first driver points for ninth and tenth places overall.
"The way Sébastien and Julien tackled this event has just been extraordinary. It was an incredible performance right from the start and what they achieved from their road position on Friday was amazing. Then on Saturday afternoon, we saw Sébastien at his best. In my opinion that has to be his best drive since joining the team – going from fifth to first in the space of a day was quite remarkable", Team Principal Malcolm Wilson said.
"The pressure is most definitely on us as a team now. We know they are not going to let us down, and we need to ensure everything is 100 percent at every rally. But it was great to see the progress that we've made. This time last year we weren't quite able to challenge for the win, but this year was a different story. We haven't stopped working, and it's great to see all the hard work paying off."
Malcolm Wilson: "The way Sébastien and Julien tackled this event has just been extraordinary. It was an incredible performance"
Global Director of Ford Performance Motorsport Mark Rushbrook, added: "Congratulations to Sébastien and Julien on the well-deserved victory. Coming from a nearly 30-second deficit to win by more than a minute is incredible. We are proud of the work that the M-Sport Ford World Rally Team has done with the Ford Fiesta WRC, and look forward to the team's continued success in 2018."
Another spectacular win for @MSportLtd @SebOgier ? #WRC #RallyMexico pic.twitter.com/qVMgLAcYCW

— Ford Performance (@FordPerformance) March 12, 2018