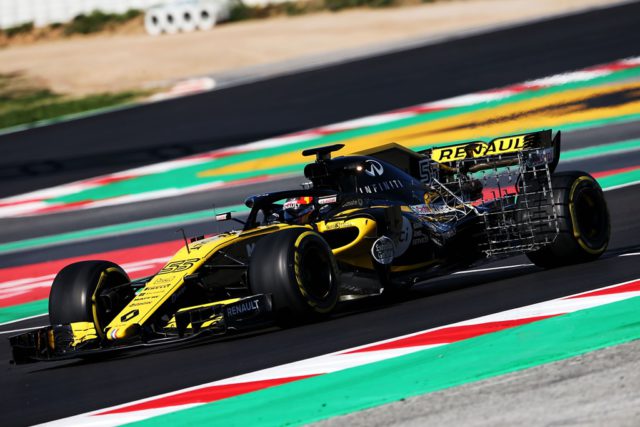 The Renault Formula 1 team feels it has a good handle of its new car R.S.18. Managing Director Cyril Abiteboul explained that the pre-season tests were encouraging.
"We have been able to cover almost all our programme over the two weeks, with several notable achievements, including beating the record of laps around Barcelona for a day. We feel we have a good handle on the car, which is a step forward from last year, but we will need to wait until Australia to determine where we are in the order", Abiteboul said.
"It was frustrating to finish with so few laps on the board [on the last day], but the complexity of the cars means little issues can take time to be sorted out. It was a shame to end a very productive two weeks like this, but we can go into next week and Melbourne looking forward."
Carlos Sainz who was behind the wheel that day said he felt positive despite the problem.
After the tests ended Renault conducted a demonstration down the Promenade des Anglais in Nice (France)
Nico Hulkenberg and Alain Prost jumped into the 2012 V8-powered E20 and the 1983 RE40 to power down the iconic seafront as a warm-up to the French Grand prix, which takes place in a little over 100 days.
Despite torrential rain and heavy cloud cover, thousands of fans lined the route to get a glimpse of Renault's race driver Nico and four-time Formula One world champion Alain negotiating one of the most famous roads in France.
"It was a fantastic event. It's an amazing thing to be able to drive down Promenade des Anglais with a Formula 1 car. The sound was incredible. It's such a famous place in the South of France and you don't get to do it every day! It was a shame the weather was so bad but I saw a lot of people with smiles on their faces – I think we put on a good show and hopefully gave people a taste of what's to come with the French Grand prix", Hulkenberg said.
"It was a fantastic event", both Hulkenberg and Prost said
"That was an initiative from Christian Estrosi, mayor of Nice and President of the French Grand prix, who has brought F1 back to the region. It was symbolic to have the RE40 driving with the 2012 E20 car, uniting old and modern F1 cars as the French GP makes its return after 10 years off the calendar. The only bad point has been the weather, but it's been a unique event with lots of people who I hope will follow us through to the French Grand prix in June", Alain Prost added.
? 100 days until the return of the French Grand Prix
?? La Promenade des Anglais in Nice
? Nico Hülkenberg and the 2012 V8-powered E20
? Alain Prost and the 1983 RE40
? Sound up
? ENJOY pic.twitter.com/JEDdP0e3Ok

— Renault Sport F1 (@RenaultSportF1) March 15, 2018