The 2018 FIA World Rally Championship (WRC) gets underway this week with the season-opening Rallye Monte Carlo, the first of 13 events on this year's WRC calendar.
Hyundai Motorsport has outlined clear ambitions to compete for both drivers' and manufacturers' championship titles this year
With rivals M-Sport, Toyota and Citroen all gunning for glory, another fierce battle among the manufacturers is on the cards.
The team's 2018 challenger is an upgraded specification of its multiple rally-winning Hyundai i20 Coupe WRC.
A trio of crews will represent Hyundai Motorsport
at Rallye Monte-Carlo. Andreas Mikkelsen and Anders Jæger will tackle the 17-stage rally in the #4 car. Thierry Neuville and Nicolas Gilsoul will aim for victory in the #5, while Dani Sordo and Carlos del Barrio will run the #6.
Neuville memorably led at Monte Carlo twelve months ago until a premature retirement on the penultimate afternoon. The Belgian went on to dominate the Power Stage to take the maximum five points as consolation.
A tested development
The 2018-specification Hyundai i20 Coupe WRC has undertaken a thorough development programme over the winter. Three days of testing were held north of Nice, France in mid-December. Then followed by three days closer to Gap in the New Year.
The team then travelled to Spain for a solitary day of evaluation in a range of conditions. All three crews competing in Monte Carlo had the chance to get acquainted with the car on dry and wet tarmac, as well as on snow and ice. It proved a useful opportunity to replicate the various scenarios that might occur on the Monte stages.
Team Principal Michel Nandan commented: "We are as well prepared for this new season as we can be with renewed ambitions for the championship"
"The performance of our Hyundai i20 Coupe WRC in the final rounds of last season, especially winning in Australia, gave us a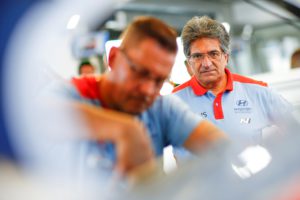 good springboard for winter development. We have taken the car and crews to France and Spain for seven days of testing in the past month, in an effort to replicate conditions that we expect in Monte. The beauty of this opening event is its unpredictability, so we have to be prepared for anything. Autosport International brought together all the manufacturer teams for a unique event, one that perfectly showcases the WRC's community spirit. We know our rivals will be formidable and relentless. So we have to be on top of our game at all times. Bring on round one – let's hope it's another classic Monte."
The Norwegian crew begins their first complete WRC season for Hyundai Motorsport at Monte Carlo
They are aiming to build on an impressive debut in final three rounds of 2017, which saw them lead in Spain and Australia and finish fourth in Wales Rally GB.
Mikkelsen said: "It's an amazing feeling to be starting a complete WRC season with Hyundai Motorsport. Last year was a bit frustrating. So I am looking forward to a consistent year with lots of rallying and aiming to be in the championship fight. Monte, of course, is an incredibly difficult challenge to start a new year with all kinds of conditions, including night driving where black ice can catch anyone out. Alongside Anders, I can't wait to get our 2018 campaign underway."
Let the games begin! #WRC2018 https://t.co/G9vvLjvQH8

— Andreas Mikkelsen (@AMikkelsenRally) January 17, 2018
They are hoping to use the experiences from recent seasons to go one better in the championship than they managed in 2016 and 2017 – starting with a strong result next weekend.
Neuville said: "Excitement for this new WRC season is at fever pitch. Monte Carlo is a very special event, one at which even the slightest error can be rally-ending. We saw last year, having led the event comfortably right until the penultimate day, that a small mistake put us out in a very frustrating manner. That's what Monte is all about; it's a tough challenge to start the year. We will aim to put all the lessons learned from our participation in the recent editions of this event to good use."
Monte Carlo will represent the first of seven planned WRC events for the team's Spanish crew in 2018.
Sordo was in the highest position of all Hyundai drivers in last year's Monte rally, finishing in fourth place
A podium challenge is, therefore, a realistic target.
Sordo said: "I am pleased to be starting my fifth season with Hyundai at one of the most demanding events on the calendar. We have developed a strong working relationship. And although my schedule for this season is just seven events, I will aim to get as much out of them as I possibly can. I have a new co-driver for this season, Carlos. So there will be some areas we need to refresh. But we are optimistic we can deliver a positive result in this debut rally of the new year. We have to expect the unexpected at Monte Carlo, and it will definitely be a tough fight against our rivals."