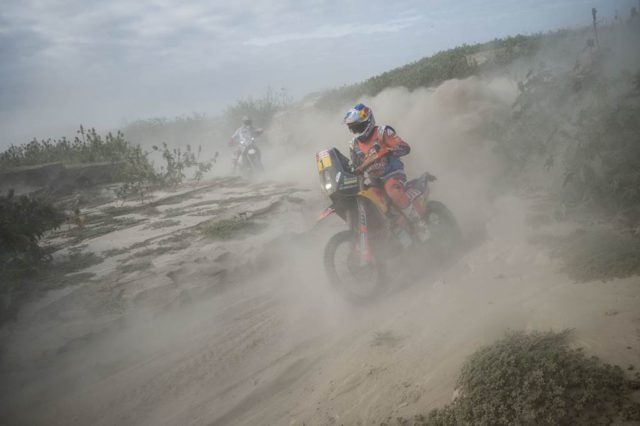 The 330km special stage pushed the athletes and their machines to the limit on the route around San Juan de Marcona in Peru.
In the toughest physical day of the 2018 Dakar Rally so far, the leaderboard was shook up with many pre-race favourites coming into difficulty.
Tomorrow (Wednesday) sees bikes and quads take a separate route from the cars and trucks. After a 250km plus special stage, they will meet again in Arequipa.
Bike
2017 champion and overnight race leader Sam Sunderland suffered a dramatic exit from the race towards the end of the stage as a helicopter evacuated him from the route.
Severe back pain which required a hospital visit put an end to the British riders hopes and enabled Adrien Van Beveren to take a commanding stage win ahead of Xavier de Soultrait and Matthias Walkner.
Walkner, who is now third in the overall standings, said: "I lost a lot of time and had many crashes in the soft dunes, it was really hard and a crazy day."
Car
WRC king Sébastien Loeb enjoyed a first stage win of the year after going toe to toe with Stéphane Peterhansel and Carlos Sainz for most of the day.
The trio of Team Peugeot Total drivers opened up huge gaps as they managed to avoid any major mishaps like teammate Cyril Despres, who broke a wheel and suffered suspension damage on his 3008DKR Maxi.
After getting back into contention yesterday, disaster struck for Nasser Al-Attiyah who came into trouble and lost more than 50 minutes to the leaders.
Loeb said: "On WRC stages you lose two minutes sometimes, here you can lose 30 or more so it is very different. We are doing a good job at the moment though."
Quad
Sergey Kariakin ended the early Ignacio Casale dominance to beat the Chilean by 43 seconds. And he claimed a first stage win. The Russian still trails Casale by 25 minutes overall.
Trucks
Eduard Nikolaev strengthened his grip on the race with another impressive drive in the Kamaz Master. He left the rest of the field to fight it out in the desert. Nikolaev finished 27 minutes before his closest rival Federico Villagra.
Peru ?? delights the bivouac every day with different activities to show its culture. Let's share it to the world! ?
// Perú ?? deleita al vivac cada día con diferentes actividades que muestran su cultura. ¡Compartámosla con el mundo! ?#Dakar2018 #DakarPeru2018 pic.twitter.com/c4cO6QG1UF

— DAKAR RALLY (@dakar) January 9, 2018