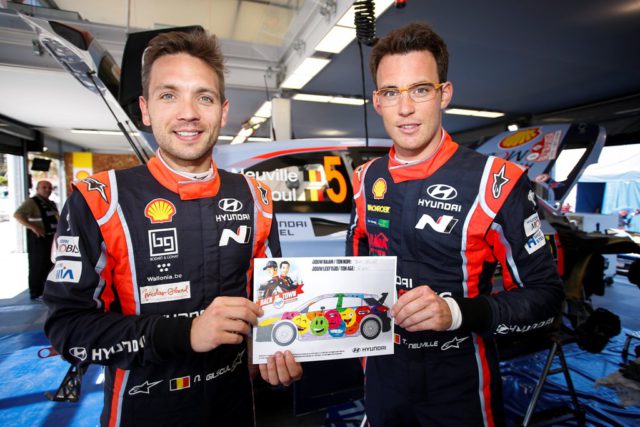 Belgian Hyundai Motorsport crew Thierry Neuville and Nicolas Gilsoul will lead a total of five New Generation i20 R5 crews when they return to race in their home country later this month at the Ypres Rally (22-24 June).
The pair currently sits second in the World Rally Championship (WRC) standings. They will be competing in a New Generation i20 R5 for the first time. That is their first appearance at the Ypres Rally in four years.
Their return to racing in Belgium has been supported in the country by the "Back in Town" competition, which offered children the chance to design a unique livery for the special event. The final design was selected last week from the hundreds of entries into the competition. 8-year-old Zoë Charlet was the winner with her joyous emoji idea. As part of the prize, Zoë and her family will be able to see the car on the stages. They will also have the chance to meet Thierry and Nicolas as part of a VIP package.
Entering this rally allows Neuville and Gilsoul to showcase Hyundai Motorsport with a different car to that they campaign in the WRC
Their first competitive outing in the i20 R5 will also allow them to compete at the most prestigious rally in their home country. It will also give fans the opportunity to see the pair on the stages. The New Generation i20 R5 is one of the creations of the Hyundai Motorsport Customer Racing department. One of the primary motivations for the project was to broaden the profile of Hyundai Motorsport outside of just the WRC.
As well as the star turn by the WRC crew Hyundai Motorsport will be represented by the Driver Development Program pairing of South Korean driver Chewon Lim and co-driver Martijn Wydaeghe, who will also be racing in his home country. The pair enjoyed a consistent run last weekend at the Rally van Wervik. The rally, based only a few miles from Ypres, and run on similar stages, was the perfect warm-up for the upcoming event.
This year's Ypres Rally brings together both the Belgian and British national championships, as well as the Tour European Rally (TER) Series. In total, nearly 40 R5 crews are currently on the entry list.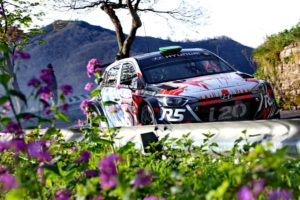 "Of course it is exciting for us to be back in Belgium in a car that is capable of winning Rally Ypres", Thierry Neuville said
"We have not had many chances to compete there in the last few seasons, around the WRC rounds. It's a race Nicolas and I have never won, so we were looking forward to the weekend. It should be very enjoyable, especially because we have such a fun and unique livery. This will be our first rally in the New Generation i20 R5. But we will have a test before to learn a bit more about the car. We should start strongly, so we can show off the performance of the i20 R5 in front of the big crowds for the event."
Hyundai Motorsport Customer Racing Manager Andrea Adamo added:
"To have Neuville competing in a New Generation i20 R5 in his home country will obviously bring a lot of attention and fans, who are not able to travel to WRC events. This shows the impact of the customer racing in bringing Hyundai Motorsport to new audiences. It was one of the main aims for us when we founded the department. We will also have customer teams competing in each of the three championships fighting for points at the rally. And each has a chance of claiming a very strong result. A year on from the first public outing of the car, this would be a perfect way to celebrate."
???? #YpresRally #Hyundai #i20R5 https://t.co/kMjojt3trX

— Thierry Neuville (@thierryneuville) June 16, 2017