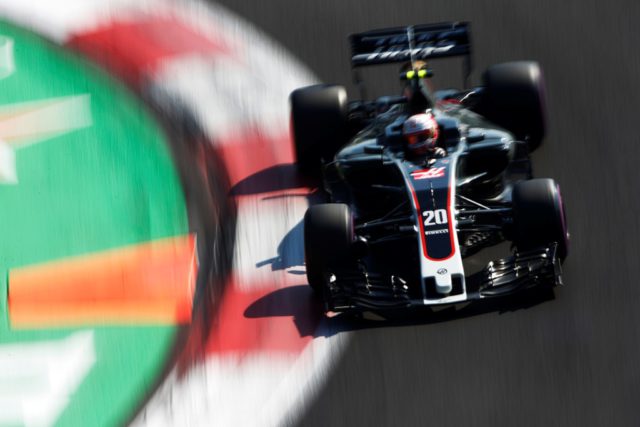 Haas F1 Team finished eighth in the constructors' standings last year, so the goal this year is to finish one spot better. Hitting the nice, the round number of 50 points earned is also in sight. Getting there, however, means successfully navigating the 4.309-kilometer (2.677-mile), 15-turn Interlagos circuit. It is one of the shortest laps on the Formula One calendar, but arguably the most intense. Team principal Guenther Steiner looks forward to the race as well as reviewing the Mexican Grand prix.
You overcame a difficult Friday and Saturday last weekend in Mexico City to earn a points-paying result on Sunday. Talk about all that you endured last weekend and how satisfying Kevin Magnussen's eighth-place finish was for the team.
"If somebody had told us on Friday or Saturday that we would finish up in the points, even with one point, we'd have signed on for it. It just shows that you've always got to keep on believing in yourself and pushing. With a little bit of luck and a fantastic drive from Kevin, we ended up eighth. Obviously, the Friday and Saturday were disappointing. Everything which shouldn't have happened to us did, and we were just slow. We learned a lot, also in view for next year, how not to do things – which is always good. We're very thankful for the points we got. We'll try to get more."
Magnussen had to hold off two world champions to earn his eighth-place finish in Mexico City. Talk about that drive and what you saw from him in the closing laps of the Mexican Grand Prix.
"I think it was pretty cool. He was just doing a fantastic job. The McLaren was on ultrasoft tires and we were on soft. So, to hold off a McLaren on ultrasofts with a world champion (Fernando Alonso) behind the wheel is not easy. He did very well, and with style. To hold off Lewis (Hamilton) in a Mercedes for two laps is quite astonishing. Maybe Lewis didn't have to push hard because he was world champion if he finished ninth, but nevertheless, Lewis doesn't want to finish ninth if he can finish eighth, so for sure he tried but he couldn't get him. I think it was Kevin's best drive of the year for Haas."
After the Mexican Grand Prix, Magnussen said his result felt like a victory. For those unfamiliar with Formula One, how does an eighth-place finish feel like a win?
"I think if you use the pecking order of where the cars are now, we are toward the end, especially in Mexico. Our free practice runs and our qualifying runs weren't good. In qualifying, we were last. We were the slowest ones. For sure, coming back in the race and finishing eighth, and fighting for eighth and being competitive, it was like a win for us. We know that the first six cars we can't beat anyway and, normally, we've got two more teams in front of us. For sure, for him, it must have felt like a win and he kept two world champions behind him."
The Mexican Grand Prix showcased the resiliency of Haas F1 Team. Despite the odds stacked against the organization before the green flag waved, the team earned one of its best finishes of the year. How important is it to remain positive and go into a race with an open mind, regardless of your starting position?
"I think every day, and every session, you need to be open about being able to do better. You must always believe in what you can do. The moment you don't believe in yourself, or in the team anymore, if you give up on it, you won't achieve anything. You take it by the lap, the hour and the day. Whatever it is, you're always convinced you can do better, otherwise, where do you take your motivation from to do this?
With only two races remaining, the midfield is as tight as ever, specifically among Haas F1 Team, Renault and Toro Rosso. How would you characterize this battle?
"For sure, we try to grab at least one position. It's very difficult because we're fighting with teams which are as good, if not better than us. Renault is a works team. They've got a lot of people working for them. They've made good progress over this year, but have had a few reliability issues lately, which played into our hands, and we took them. You cannot predict what is happening. Who would've predicted that we would come away with points in Mexico? If you'd told that to someone on Saturday, people would've laughed about it. Nothing is impossible to happen, everything is possible to happen. I don't know where it ends up, but I'm sure we'll put a fight up for it."
What do you want to achieve before Haas F1 Team's sophomore season is over?
"A goal would be to finish better than last year, which would be seventh, at least. Can we achieve it? We're sure going to try."
Last year's Brazilian Grand Prix was run in the wet, but in 2015 when the race was run in the dry, the top-three finishers used a three-stop strategy. What needs to happen to make a three-stop strategy work over a typical, two-stop strategy?
"With the tires, we've got this year, there will be no three-stop strategies, no chance. We need to get the data on Friday to see if it'll be one-stop or a two-stop, but a three-stop will never work."
Formula One and the FIA jointly announced a direction for power unit regulations in 2021, including a higher-revving engine (3,000 rpm higher), removal of the MGU-H, a more powerful MGU-K with manual driver deployment and a single turbo with dimensional constraints and weight limits. Granted, you're not an engine manufacturer as you receive your engines from Ferrari, but what is your take on this direction?
"They've tried to achieve the things they set out with more noise, more equality and lower costs. That is the aim of it. I think they've thrown out a good concept to start off with. Now the details can be worked out by the technical people. The concept is out there and I don't think the concept will be changed. But now they need to work on the detail of the concept to achieve the goals they've set themselves with more noise, more equality and lower costs for the customer teams. Hopefully, they can achieve it."
Is there an element of this direction you'd like to see expanded, such as a spec gearbox that can mate with any engine?
"I think the aim is, with the new spec of engine, that you can bolt it onto any car, and any part to it. They will define more of the attachment points."
Much has been made about the sound of Formula One cars, specifically that they need to be louder like they used to be. What are your thoughts?
"The noise – if you don't have it, you think it's not important because it's just noise. If you hear a V10 or a V12 going by, when you see these historic cars, it sounds beautiful. I think a lot of people like the noise. I don't think we'll get to that noise of a V10 or a V12 because you have a turbo on it. You can improve, and the aim is with making the rev limit 3,000 rpm higher than the current engine, it can be achieved to be noisier. I think it will never be like it was. A little bit noisier is good because I think it's great for the fans to hear a car coming from far away."
Of all the elements mentioned in the direction of the 2021 power unit regulations, is the most important and unspoken element cost?
"I wouldn't say it's the most important. It's as important as the other ones because even if it's cheap if people don't like the engine, why would we do it? There needs to be a compromise between what the fans like, which is noise, and new manufacturers coming in, which is what people want. The cost element is also important for new people, for current people, and for the teams which don't make their own engines, like us. It's part of what we need to do to change Formula One to be better."
How long will it take to get everyone on the same page to enact this new direction for power unit regulations?
"I think it will take a year to finalize the regulations. I think that's the aim, to have the final version of the technical regulations by the end of 2018. Then it's a two-year development process. I think already the manufacturers will start now to develop because you cannot be behind."
DYK? The name, Interlagos, comes from the track being built between two artificial lakes designed to supply São Paulo with water & energy. pic.twitter.com/1sdphJP6qK

— Haas F1 Team (@HaasF1Team) November 5, 2017