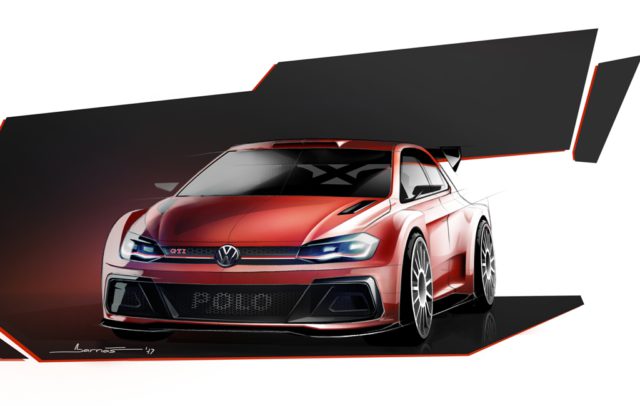 The GTI for rallying: with the Polo GTI R5, Volkswagen returns to rallying under a new guise. In the second half of 2018, Volkswagen will make the 270 hp rally version of the Polo available to professional teams and aspiring drivers to enable them to compete in championships across the globe – including the FIA World Rally Championship (WRC). A sketch of the car gives a foretaste of what's to come. The base for the R5 is the new Polo of the sixth generation.
"With the Polo GTI R5 we are hoping to transfer our expertise from four WRC titles to customer racing successfully, and offer a first-class racing machine for countless rally championships from national series to the WRC," said Volkswagen Motorsport Director Sven Smeets.
The development of the Polo GTI R5 has been in full swing since the start of the year, with initial test drives planned for this year. The experience gained from the successful WRC era is being incorporated directly: Volkswagen Motorsport Technical Director François-Xavier "FX" Demaison, father of the record winning Polo R WRC, is responsible for the development of the Polo GTI R5. And Gerard-Jan de Jongh also brings all his expertise as the senior project engineer. The Dutchman was previously Sébastien Ogier's race engineer; Ogier won the drivers' title with Volkswagen four times in a row.
The GTI for rallying: with the Polo GTI R5, Volkswagen returns to rallying under a new guise
Polo GTI R5 has a powerful four-cylinder turbo engine with direct fuel injection. Other features include four-wheel drive, a sequential five-speed racing transmission and a comprehensive safety package. These are the most important features of the R5 category. This gives privateers, teams and importers the opportunity to contest national, regional and international championships with cost-effective, powerful rally cars.
For Volkswagen Motorsport, the Polo GTI R5 represents another important milestone in their strategic realignment. First was the successful introduction of the Golf GTI TCR. It brought home wins and titles in numerous championships on the circuit since 2016. Now Volkswagen Motorsport is expanding its involvement in customer racing to rallying.