Haas F1 Team debuted in the FIA Formula One World Championship in 2016, becoming the first American Formula One team since 1986. Also debuting in 2016 was Baku City Circuit, home to the Azerbaijan Grand Prix. These two newbies have grown up together, and the two are set to meet again on April 29 for the third annual Azerbaijan Grand Prix.
The youngest team in Formula One heads to one of the newest tracks in Formula One intent on continuing its disruptive presence. Three races into the 21-race schedule, Haas F1 Team is seventh in the constructors' standings with 12 points while holding a nine-point advantage over eighth-place Sauber with just a single point separating it from sixth-place Toro Rosso.
Haas F1 Team drivers Romain Grosjean and Kevin Magnussen have taken the pace they displayed in winter testing at Circuit de Barcelona – Catalunya and maintained it through Formula One's stops in Australia, Bahrain and China. Both drivers have appeared regularly in the top-10 in qualifying, and this has translated to running among the top-10 in grands prix with their Haas VF-18s mixing it up with the likes of Scuderia Ferrari, Mercedes and Red Bull as they seemingly lead the midfield charge.
Haas team principal Guenther Steiner previews the Azerbaijan Grand prix.
Magnussen has had a strong start to the season and he comes into Baku with back-to-back point-paying finishes. What do you attribute his performance to this year?
"He likes the car and the car is good. And that combination has given him confidence. He doesn't have to overdo things. He believes in himself that he can do a good job with a good car."
How helpful has it been for Magnussen to have continuity with Haas F1 Team, as it's the first time in his career where he has been with the same team for multiple years?
"I think being with us for two years now has a lot to do with it. The first year, he figured out everybody. He knows who is who, likes the atmosphere around the team. He hasn't had this before and, now, coming into the second season is something new, and it's helped pull the talent out of him."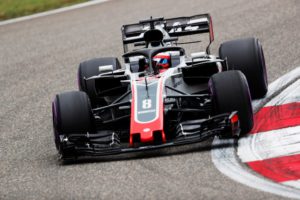 Grosjean has had the pace this season, but not the results. In your role as team principal, how do you ensure one side of the garage is operating at the same level as the other side of the garage even if the results are different?
"It's actually not a problem. While Romain hasn't had the results he would've liked and we all wished we had, for one reason or another, there was never a lack of performance. There are no issues within the team. We have a good team atmosphere and Romain will get the results he and we want. I have no doubt about that."
So far this season, we've seen both Haas F1 Team drivers racing near the front of the field in close proximity to one another. That's obviously a good thing, but it also presents a new challenge with two drivers under the same roof wanting the same position. How do you manage this dynamic?
"It's not an easy thing to manage, but it's a nice thing to manage. Sometimes you need to manage emotions, but I think we have good ground rules in place between the two drivers. They're pushing each other in a different place and it's more obvious. It seems like we could always have two cars in the points if everything goes right, and that's really the only thing that has changed. Before, there were more ups and downs and we weren't always in contention to finish in the top-10, but having a solid car in the VF-18 allows us to always compete for points."
The Haas VF-18 has proven quick, thanks in part to its Ferrari engine and also to its overall balance. What are your expectations of the car at Baku City Circuit, which melds two different tracks into one layout?
"We showed in the first three races that we can be competitive at the high end of the midfield, and we're very confident we can be there in Baku, as well."
Three races into 2018 and we've seen two Scuderia Ferrari wins and one Red Bull win with defending champion Mercedes still looking for a win. It seems there's parity among the big-three teams, as well as throughout the midfield. What is your take on the competitiveness of this year's Formula One field?
"It's very competitive. The Big Three, as we call them, are in their own league, but there is a group of teams behind them who are very strong, us included. It's a very interesting championship."
It appears that the fight for the top of the midfield is wide open. Can Haas F1 Team be best of the rest?
"Yes, that is what we're going to the racetrack for. We haven't been best of the rest yet due to circumstances, some of which were self-inflicted, like Australia, but I'm sure that moment will come."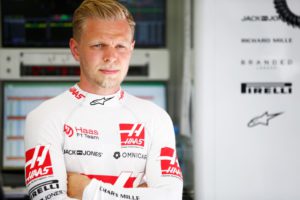 What needs to happen for Haas F1 Team to maintain the speed it has shown early in the season through the rest of the Formula One calendar?
"We need to keep on doing what we're doing. Every race we learn more about the tires and we build up our knowledge base of the tires from this year, and we have planned for upgrades on the car. Our whole plan this year is different from last year. Last year, we knew we wouldn't have many upgrades because we decided early in the season that we wouldn't bring that many updates as we turned our focus to next year's car. But this year, we made the decision early in the season that we will bring more updates. So, it's down to how good are our updates, but also how good are the updates of the opposition?"
Baku City Circuit is a track where fuel consumption is high. Is there anything you have to do during the race to ensure your drivers have enough fuel to finish the race?
"Yes, we have to do some lift-and-coast, but everyone is in the same boat. Now, that's something you sometimes have to do anyway to save a little bit with your tires. But on these high-power circuits, we do have to do some lift-and-coast. All four engine manufacturers are very similar in this regard, so it's nothing special, but it's still something we need to look after."
Fuel levels are set to increase in 2019, from the current allotment of 105 kilograms (27.3 gallons) to 110 kilograms (28.6 gallons) in order for drivers to use the full power of their car's engine at all times. What can a driver do with those five extra kilograms (1.3 gallons) of fuel? Does it give them the freedom to push as hard as they want, whenever they want?
"On a lot of the circuits, yes, the drivers can push as hard as they want because they have more than enough fuel to go the distance. But on some other circuits, there is still some lift-and-coast, and lift-and-coast is sometimes done for other reasons, not only for fuel consumption. Sometimes, it's to save your brakes or to save your tires. But in theory, most of the tracks with a 110-kilogram limit allow you to be wide open for the whole race. It does add some strategy to the race, as you can either go wide open or save tires and whatever suits you or your car better, then that's the choice you make."
Look no further, we have your #AzerbaijanGP guide right here! pic.twitter.com/zhMNFpmimh

— Haas F1 Team (@HaasF1Team) April 24, 2018