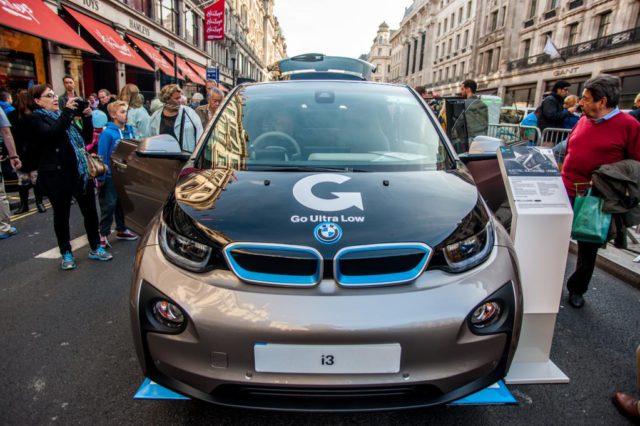 Battery-powered vehicles spanning more than 110 years on show Go Ultra Low offering test drives in the newest electric vehicle to visitors Veterans, classics, bikes and futuristic cars displayed Entertainment all day at the free-to-view show.
When motoring's past and motoring's future meet head-on at the Regent Street Motor Show next month (Saturday 4th November) they will discover they have more in common than they might have first thought. And the result will be electric!
The cars we will all be driving tomorrow (or the ones that will be driving us!) will be on battery power. They will produce no tailpipe emissions and will glide silently along our streets.
Examples of the newest electric and hybrid vehicles from manufacturers like BMW, Renault, Kia, Toyota, Volkswagen and Hyundai will be on display on Regent Street. The street will be closed to through traffic for the day. Some will even be available for short test drives on the roads leading off London's premier shopping street.
But alongside the latest in cutting-edge technology, the Show – which last year attracted more than 400,000 visitors – will feature 100 cars from the dawn of motoring all taking part in the annual Veteran Car Concours d'Elegance. And among these veterans will be a 1901 Pope Waverley electric vehicle (EV).
The Pope Waverley is one of three EVs due to take part in the famous Bonhams London to Brighton Veteran Car Run supported by Hiscox. The run will set off from Hyde Park on Sunday, 5th November. And it will be easy to spot as it wears the traditional green and gold livery of the legendary department store Harrods.
Harrods was one of the first companies in the UK to operate an all-electric fleet. It introduced its first EV more than 110 years ago. The store went on to build a fleet of 60+ electric vehicles. They include solid-tyred American Walker electric vans which delivered goods to the store's London customers in the first half of the last century. It's a tradition that continues today. The store uses a 100 percent electric Nissan e-NV200 for local deliveries.
Harrods took part in the Emancipation Run in 1896 and Director of Store Operations, James Healy, will be driving the Pope Waverley on this year's Run. The store also provides a welcome hot drink and refreshments for participants at the Run's half-way 'pit stop' in Crawley.
At the Regent Street Motor Show, Harrods will display four cars from its Heritage Collection, including the Pope Waverley
There will also be a Walker electric van and the Nissan as well as an example of an electric van specially commissioned by the company in the 1930s.
There are now more than 35 different electric cars on the market. Ranging from city run-arounds and family hatchbacks to 4x4s and sports cars, they are for everyone. It's no surprise there are now more than 120,000 on our roads.
In addition to their environmental credentials, electric cars cost as little as 2p per mile to drive. That means motorists can save hundreds of pounds a year on fuel. Fully electric cars are currently exempt from road tax and the London Congestion Charge.
They deliver on range too. Some pure electric cars can travel up to 200 miles on a single charge. Plug-in hybrids, which combine an electric motor and a petrol engine, offer the best of both worlds.
Nick Wigley, CEO of organisers, Goose Live Events, said: "The Regent Street Motor Show just goes from strength to strength. It not only provides a great showcase of motoring's past, present, and future but also uniquely gives visitors to the Show this chance to get up close and personal with the very latest generation of cars, speak to experts and learn more about the technology. We look forward to welcoming visitors to the UK's largest free-to-view motor show for what will be a fantastic event in the heart of London next month."
The first Regent Street Motor Show was staged in 2005 and it has now become a hugely popular must-see spectacle
It attracts vast crowds keen not only to see the hundreds of veteran and classic cars on display and to take test drives in the latest machinery but also enjoy street entertainment, too.
And, of course, Regent Street is the perfect place for a spot of lunch and some pre-Christmas shopping once people quench the motoring thirst.
The Regent Street Motor Show and the Veteran Car Run are key events in the week-long London Motor Week run by the Royal Automobile Club.
Mark your diary! 100s of veterans, classics and modern cars on show at the the Regent Street Motor Show on Sat 4th Nov. pic.twitter.com/dHKdvtiBOc

— Classicana (@ClassicanaUK) September 26, 2017