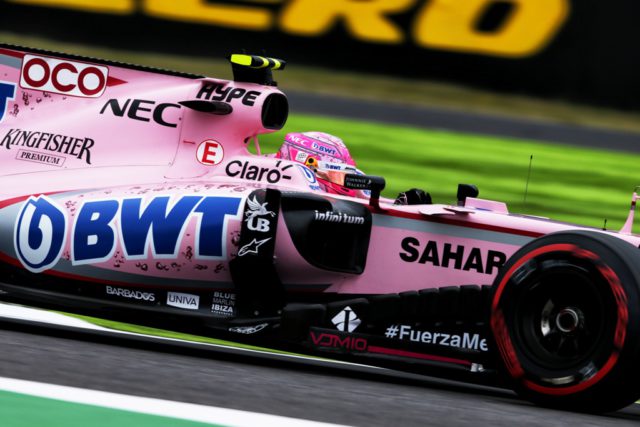 Force India scored 14 points in the Japanese Grand Prix as Esteban Ocon and Sergio Perez raced to sixth and seventh places at Suzuka. That was the team's 13th double points scoring position in 16 races.
Esteban Ocon:
"It was a great race, especially the start and the opening laps, and I was running third for a long time. We are still missing a little bit of pace to keep the big guys behind, but it was great fun fighting at the front. I tried my best to keep [Daniel] Ricciardo and [Valtteri] Bottas behind, but they were just too quick and I had to let them go and focus on my race."
"The main challenge was managing my pace because it was a one-stop race and it was important to look after the tyres so they would be strong at the end. I was running ahead of Checo, we had nothing to gain from the cars ahead and a comfortable margin to the cars behind. So the priority was to bring the car home and score the big points."
"It's been an awesome weekend and it feels as though we achieved the maximum, which is why this result is so enjoyable. We also learned a lot about the car, which will make us stronger in Austin, so that we can hopefully close the gap on the teams ahead of us."
And here's @OconEsteban, who hails "a great achievement" with 6th in Suzuka. #JapaneseGP #PinkPanthers pic.twitter.com/YddOmC9x82

— Sahara Force India (@ForceIndiaF1) October 8, 2017
Sergio Perez:
"I am very happy for the team with this great result, which was definitely the maximum we could achieve today. It was a relatively easy race: we had a strong qualifying session and we had good race pace, so we spent a lot of time on our own.
"I felt I was quicker than Esteban in the second stint and I had an opportunity to overtake him at the final restart, but we followed the team's instructions. We knew this would be the case so it wasn't a surprise, and swapping us wouldn't have made a difference in terms of points for the team, so I understand the team's perspective. In the end, Esteban did a great job during the whole weekend."
"The last two races have been really strong for us and I am very pleased with the results we have achieved. The 'Fuerza Mexico' message on the podium before the race meant a lot to me and I'd like to say 'thank you' to everyone in the paddock. The support my country has received in the last few weeks has been incredible and I hope we can keep helping, especially as we get ready for the race in Mexico later this month."
First up is @SChecoPerez, a fine 7th at the end of a strong weekend #JapaneseGP #PinkPanthers pic.twitter.com/IQ2rdH1yN1

— Sahara Force India (@ForceIndiaF1) October 8, 2017