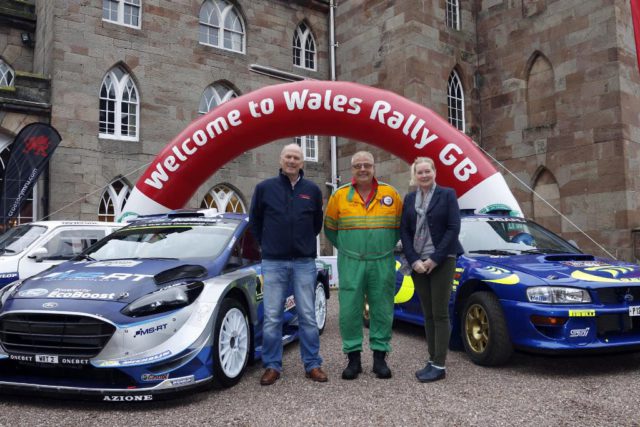 Saturday, 29 October 2016. Spectator Rob Hemmings suffers a heart attack on Gartheiniog stage on Dayinsure Wales Rally GB. The stage rescue and medical team, including two doctors and two paramedics, is called, along with St John Ambulance volunteers. On his way to the hospital in Swansea, Rob's heart stops and is re-started a total of 16 times. Doctors tell his wife Jayne to gather the family round because he will not make it through the night.
Thursday, 21 September 2017. Rob and Jayne Hemmings attend the official Dayinsure Wales Rally GB preview at Cholmondeley Castle. There they reunited with members of the rally medical team that saved Rob's life. And also enjoy the opportunity to mingle with some of the greatest names in Welsh rallying history.
Rob's is a remarkable story, and it began, as already explained, on the morning of Saturday, 29 October 2016
Together with his wife Jayne, the lifelong rally enthusiast and amateur co-driver – who used to call the notes for Phil Collins, one of the recently-announced 'Welsh Rally Legends' – was eagerly awaiting the appearance of the first WRC car when he fell ill and collapsed near the start of the Gartheiniog stage in the Dyfi forest.
Professionally trained in first aid, Jayne immediately began to perform CPR, with the stage medical team arriving on the scene in double-quick time. The rally was halted while Rob was transported by ambulance to the waiting coastguard helicopter, which flew him down to Morriston Hospital in Swansea, closer to the couple's home in Abergavenny.
En route, Rob's heart stopped no fewer than 13 times, being restarted on each occasion by a shock from a defibrillator. It stopped again when he got to the hospital. And once more in the operating theatre as surgeons were fitting two stents. He was not expected to survive the night – yet now, 11 months on, he is in rude health and already looking forward to returning to Gartheiniog in four weeks' time.
"I promised my wife an exciting, action-packed day, and I delivered on all counts!" he quipped
"Apparently I delayed the rally by half an hour too! The rescue and medical team and the marshals on the stage were absolutely amazing – they very literally saved my life and I would like to thank each and every one of them."
"If it had happened at home, I would have died. If it had happened at work, I would probably have died. Having that level of medical assistance on the ground unquestionably saved my life."
"I've done the lottery every day since, and I'm delighted to report that I feel absolutely fine now, although I'm on nine tablets a day for the rest of my life – shake me and I rattle! That's a small price to pay for being alive, though. All my family joked that I should stay away from the event now, but I can't wait to go back. It hasn't put me off in the slightest!"
Rob readily admits that the whole experience was far more frightening for his wife
Jayne is similarly quick to praise the stellar efforts of the on-site medical team, as well as fellow Dayinsure Wales Rally GB spectators.
"When Rob complained of feeling unwell, I suggested we go back to the car. But just moments later he collapsed and landed on top of me," she recalled. "Everybody around us was brilliant, providing their coats to use as a shield."
"I started doing CPR straightaway, and in less than a minute, the medics were there. At that point, it was clear Rob was in complete cardiac arrest. They used the defibrillator to shock him a couple of times and stabilise him, and then took him off the stage in the rescue ambulance to be met by another ambulance with two police outriders and then the air ambulance."
"Within an hour of collapsing, Rob was in the operating theatre at Morriston Hospital having two stents fitted to his heart. It all happened so quickly. Within two-and-a-half hours, he was in ITU recovery but it was still very touch-and-go, and the doctor told me that night to summon the family because he didn't think he would make it through the night. He couldn't believe it when he did his rounds the next morning and Rob was asking for his breakfast!"
Carl Jones was a member of the crew of the Staffs Rescue motorsport ambulance team that was providing rescue and medical cover on the stage
He was the man behind the wheel of the vehicle that rescued Rob from Gartheiniog forest. He was similarly delighted to relive the incredible story at Cholmondeley Castle.
"This is something you very rarely see," he acknowledged. "It was great to be reunited with Rob, and looking so well, too – a very special moment. I honestly never thought he would survive. When God pulled his bingo ball up, He must have got it right to the edge and then slipped – and I am very glad that He did."
If miracles exist, this was surely one of them. And that leads us nicely onto this compelling and truly extraordinary story's postscript.
Saturday, 28 October 2017. Rob and Jayne Hemmings have been given complimentary passes by Dayinsure Wales Rally GB organisers. They will return to Gartheiniog forest to watch the new generation of WRC cars blast through the legendary Welsh woodland. And will do it from the same spot as 12 months earlier. This time, they hope all the action will be of the rallying variety.
All those wanting to join Rob and Jayne in catching the world-class action – and, perhaps, witnessing the 2017 WRC champion being crowned – can take advantage of considerable discounts being offered to those buying their Dayinsure Wales Rally GB tickets in advance. For those purchasing now, adult prices start at just £10 for the opening Visit Conwy Tir Prince test on Thursday evening, £23 for Saturday's family-friendly Toyota RallyFest at Cholmondeley Castle, £28 for a Day Pass or £99 for the full four-day premium event pass (World Rally Pass). Accompanied children aged 15 and under are admitted free.
The 2017 World Rally Car is the fastest rally car ever made. Come see them @CholmondeleyCas October 28. #WRGB #WRC #RallyFestReason4 pic.twitter.com/9PRFfoSfgp

— Wales Rally GB (@WalesRallyGB) October 11, 2017