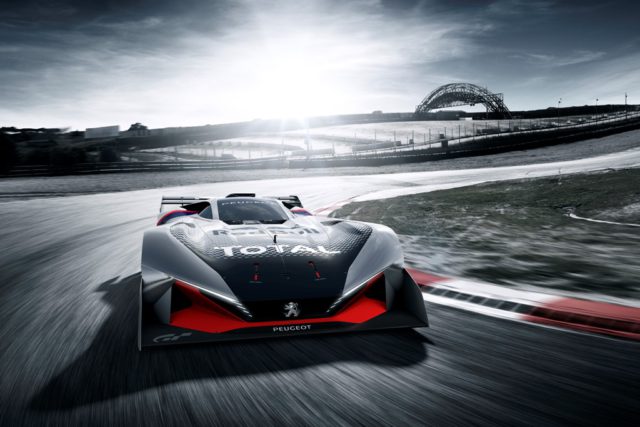 On 30 May 1916, Dario Resta won the legendary Indianapolis 500 with a Peugeot L45. 100 years on Peugeot celebrated the centenary of that Indy 500 win with the L500 R HYbrid Vision Gran Turismo. Now, another car appears. Here comes the new, sleeker, sportier version: the L750 R HYbrid Vision Gran Turismo. It marks the release of the new Gran Turismo Sport, which will happen in a week
An all-new racing experience at the wheel of the L750 R HYbrid Vision Gran Turismo
Both models move as glued to the road and seemingly at one with it. And both bear the distinctive stylistic features of the French brand.
The designers of the cars worked with the rigours of competitive racing in mind. Both cars have carbon-fibre monocoque structure, which helps to create such a character. For the driver, this radically new version of the car promises unknown sensations.
Peugeot equipped the L750 R HYbrid Vision Gran Turismo with an internal-combustion engine and an electric motor
The petrol engine produces 580 horsepower and a top engine speed of 10,000 rpm. The electric motor has 170 horsepower. That gives the car a total of 750 horsepower. Liquid-cooled lithium-ion battery powers the electric motor. The sequential 7-speed gearbox is cutting-edge technology and comes from the world of racing. The engine and transmission assembly is on the rear axle.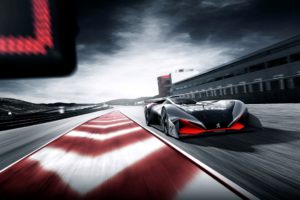 L750 R HYbrid Vision Gran Turismo has a dual-circuit hydraulic braking system. There are independent front and rear suspensions with a varying ride height according to the car's speed. The car's designers wanted it to be as light and aerodynamic as possible to deliver outstanding performance.
The car weighs just 825 kg – 175 kg lighter than the L500 R HYbrid. It gets from 0 to 100 km/h in 2.4 seconds.
Kazunori Yamauchi created the Gran Turismo video game
He became the president of Polyphony Digital after designing his first game Motor Toon Grand Prix. Motor Toon Grand Prix later had a sequel, Motor Toon Grand Prix 2, which was the only game in the franchise released outside Japan. Then Yamauchi fulfilled his dream of creating realistic driving simulators with the Gran Turismo series. Its latest release will be available from October 17 this year. In it, players can choose among a range of production and concept vehicles. They can race on 17 different locations.
"I created the Vision Gran Turismo project to give car manufacturers the opportunity to design something that has all of the characteristics of their brand and will live on as a playable vehicle in Gran Turismo. Many of the cars have become legendary in their own right. [They] continue to shine for years and attract players from different eras. For me, a car needs to be an extension of the driver. I am focused not just on the appearance, but on the handling, the sound of the engine and the feeling you get when you are racing", Yamauchi said on the occasion of the launch of the McLaren car for the game.