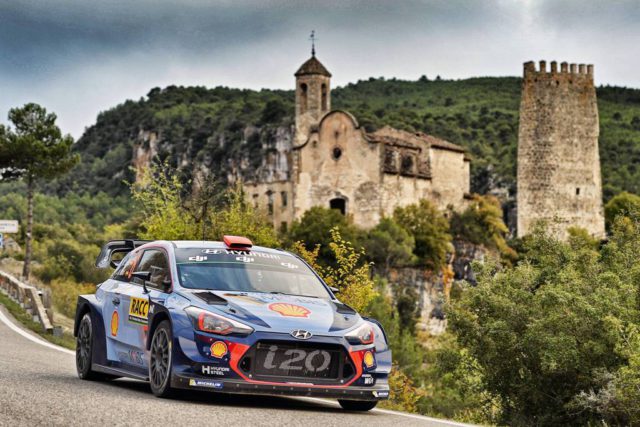 This kind of second place, Dani Sordo could work with this kind of second place.
It's Saturday afternoon on the Rally of Spain, the temperature's rising and Hyundai's local hero is ready to make history.
He's ready to become the first home winner of Spain's WRC round in 22 years. The first since the great Carlos Sainz. There is the small matter of a 14-second deficit to Kris Meeke's flying Citroen, but at least this is a straight race.
Not like 2009, when Dani Sordo was driving for Citroen.
That wasn't a straight race; Sordo received an instruction to stand aside to let Sebastien Loeb win in Catalunya.
That hurt Dani. Badly.
"I wanted that win," he said. "I pushed and I pushed, I had come close and then it was there. And then it was gone."
That he helped Loeb win a sixth straight world title comes as little consolation to Sordo.
Ahead of last week's Rally of Spain, he talked about his desire to win. You sensed he might be starting to think his time's running out to give Spanish supporters what they wanted.
And then there was the ever-present threat of managerial intervention. For Loeb read his fellow i20 Coupe WRC driver Thierry Neuville. The Belgian was in the need of all the help he could get in his bid to overcome Sebastien Ogier in the 2017 title race.
The threat was ever present that Sordo might well be asked, again, to fall on his sword. So was it really a straight race?
Yes.
The suggestion of a return to 2009 was greeted with the kind of belligerence rarely seen in the 34-year-old from the northern Spanish coast
"What happened years ago [2009] was then, this is now," Sordo said ahead of the start. "I want to win this rally and I don't care about the others. It's different now."
In the end, a meeting of his Hyundai's right-front wheel with a concrete block in a slow corner in SS12 made the matter entirely academic.
Sordo was out. His 15th start at home had ended in disappointment. Again.
But it wasn't just disappointment this time. It was gut-wrenching.
Could he have beaten Meeke? We'll never know. Almost more importantly, certainly more intriguingly, would he have been allowed – or allowed himself – to win and defy his employer?
Last week's Rally of Spain was Sordo's 151st start in the World Rally Championship. He's finished in the points an impressive 107 times and on the podium 42 times. Wins? One.
Sordo is the perennial number two, and it's his acceptance of that, allied to his ability to keep pouring the points in, that makes him the most popular driver in the service park.
When he scored that maiden victory in Germany four years ago, he was inundated with text messages of congratulation
Among the first was Sebastien Loeb.
The nine-time world champion was quick to recognise the role Sordo had played in his success. Life for Loeb wasn't quite so easy when the affable Spaniard was replaced by a single-minded and steely Frenchman called Ogier in 2011.
WRC Live reporter Colin Clark has known Sordo his entire career and he's sure there's no nicer driver.
"I wrote a piece a little while ago," said Clark, "suggesting that Dani might not contest every round this year – it was just reflecting the mood of the moment. Anyway, Dani didn't like it and he took to social media to call me a rotten tomato.
"The very next day, he lifted the phone to talk to me through his thinking. That's the kind of guy he is. He's a super, super fella."
His supporters think so too. Javier Carulla had driven a campervan from just outside Madrid to Catalunya for once reason.
"Sordo!" Carulla grins, happy just to have the opportunity to mouth his hero's name. "Sordo is for all of Spain. We cry when he is not winning. He is for us. He is best driver in the world."
Further conversation became impossible at this point as the great man walked out of Hyundai's service area to be among his people
Carulla and hundreds like him crowded around, desperate for a selfie or a signature. And this was Saturday afternoon. Their man was done, effectively finished for another Rally of Spain. Yes, there would be a Power Stage victory on Sunday, but bent suspension had done for his dream of a home win.
Carulla couldn't have cared less. Win, lose or fall, Dani would always be Dani. Spain's hero.
Hoy teníamos el ritmo bueno de carrera y hemos podido ganar la Power Stage, algo positivo para acabar el RallyRACC. ¡Gracias por el apoyo! pic.twitter.com/dTd9Lq61kb

— Dani Sordo (@DaniSordo) October 8, 2017