Jaguar's supercar-rivalling XE SV Project 8 has confirmed its status as the world's fastest four-door car by setting a new track record.
The 600PS, 200mph four-door road-legal sedan lapped the 2.238-mile WeatherTech Raceway Laguna Seca in 1min 37.54sec – almost a second faster than the previous production sedan record – with racing driver Randy Pobst at the wheel.
The most extreme Jaguar yet produced, XE SV Project 8 is a sedan with genuine supercar performance. Jaguar Land Rover Special Vehicle Operations engineers fine-tuned the car on some of the world's most thrilling test tracks, including Germany's famed Nurburgring Nordschleife. Late last year XE SV Project 8 lapped the 12.9-mile circuit in a record 7min 21.23sec.
"This Laguna Seca lap record is another powerful demonstration of the Jaguar XE SV Project 8's performance credentials. "Designed, engineered and hand-assembled by Special Vehicle Operations, this record-breaking sedan is made for the world's most demanding driving enthusiasts", said Michael van der Sande, Jaguar and Land Rover Special Operations managing director.
Project 8 is the ultimate expression of Jaguar's XE sports sedan. There will be only 300 cars of the model. Its base is the XE's lightweight aluminium-intensive monocoque. But each of them is modified at the SV Technical Centre in Coventry to accommodate the specially tuned, supercharged 5.0-litre V8 engine and a bespoke rear differential.
The all-wheel-drive XE SV Project 8 has genuine motor racing technology. Such are the F1-style ceramic wheel bearings, adjustable ride height and adjustable camber.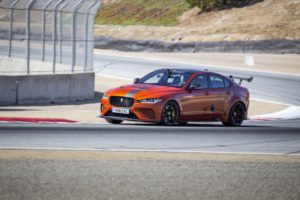 Jaguar XE SV Project 8 sets new speed record
The front and rear fenders are bespoke to accommodate larger, wider, wheels. The need for them comes from the larger brakes. The V8's power goes to all four Michelin Pilot Sport Cup 2 tyres through an eight-speed Quickshift automatic ZF transmission. It helps to propel the car from 0-60 mph in 3.3sec. The top speed has a 200mph limit, the control is electronic.
In order to achieve this performance, the car receives significant aerodynamic and suspension upgrades. These include a 'Track' mode for maximum downforce. There are also further improvements to the damping, throttle and steering response.
Project 8 is available in two specifications. The standard four-seat model features Jaguar's latest front Performance seats with magnesium frames. There is as well a more heavily contoured rear squab to maximise support. The optional two-seat Track Pack includes lightweight front carbon fibre racing seats with four-point harnesses fixed to a harness retention hoop in place of the rear seat.