Last time out on asphalt, Ford Fiesta RS WRC driver Ott Tänak won Rally Germany, while his teammate Sébastien Ogier reinforced his championship lead. But Rally Spain is unique as the only rally to feature both gravel and asphalt stages. And there's going to be plenty of challenges from M-Sport's rivals at Hyundai, Citroen and Toyota. With just three rounds left to go, it's mano a mano!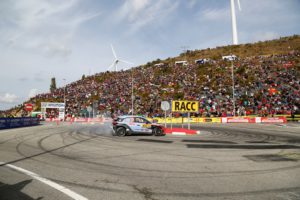 The battle between four-time world champion Ogier and the pretender to his throne, Thierry Neuville, resumes – with just 17 points separating them at the top. Tänak is also in real championship contention: third overall, just 16 points behind Neuville. So, will it be Fiesta time in Catalonia? Or will Hyundai strike back?
The rally is based in the holiday resort of Salou on the Costa Daurada, with soft and sandy gravel stages on Friday before a long service halt in the evening, when the cars are switched to asphalt specification for a weekend of flat-out sealed-surface action close to the seaside. It's the nearest that rallying gets to a race circuit.
Our TV recce crew have been surveying the stages lined up for Friday at @RallyRACC – looking good! #WRC #TheActionReturns pic.twitter.com/cS0X4em7yO

— WRC (@OfficialWRC) October 2, 2017
What's new on Rally Spain?
Andreas Mikkelsen in a Hyundai. Having last appeared in a Citroen C3 WRC, the Norwegian has switched to the i20 Coupe WRC from the Korean manufacturer, in a newly-announced deal that covers the rest of this season as well as 2018 and 2019.
Citroen C3 on gravel, engineered by Loeb. Nine-time world champion Sébastien Loeb had his first taste of the Citroen C3 on gravel recently. And his suggestions could play a big part in how it performs next weekend. He's tested it on asphalt as well and is a record-holder on Rally Spain, having won it eight times in a row from 2005.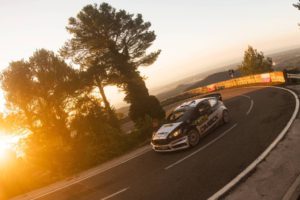 Saturday's first day on asphalt includes two new stages in the afternoon, while all six stages on Sunday – run consecutively, without a service halt – are new as well. The Santa Marina Power Stage returns for the first time in five years.
Mads Ostberg and Khaled Al Qassimi both return to competition in a Ford Fiesta WRC and a Citroen C3 WRC respectively.
Luis Moya shows you the way on Red Bull TV. Quite literally.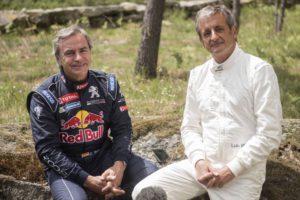 Who better to show you round the most complex rally of the championship than a two-time world champion co-driver?
Luis Moya, the partner in crime to Carlos Sainz for 15 years, is Red Bull TV's guest reporter on Rally Spain. Here are a few pearls of wisdom he's given us in the past.
"Being a co-driver is more intense than being married. If you have a row when you're married, you can go to the bathroom to calm down. Here, driver and co-driver are stuck in this little box together."
"Sharing a car with Carlos Sainz was like going to university every day. I don't think I ever met anyone else who was so committed."
"We achieved a lot, but I think I'll always be most famous for throwing my helmet through the rear windscreen of our car when we lost the 1998 championship."
"The fans on Rally Spain were amazing to us. It felt a bit like being a rock star, but even better."