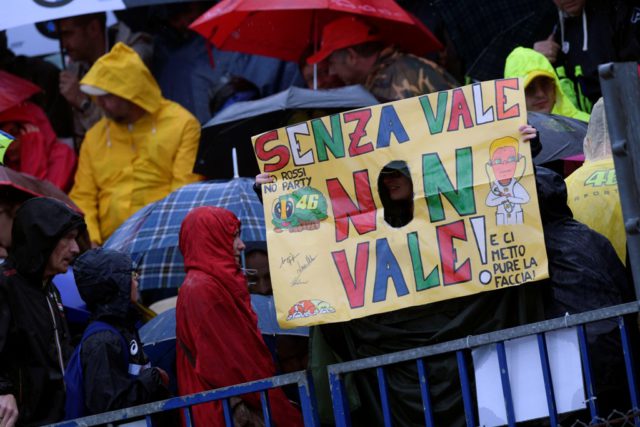 Valentino Rossi will undergo a medical examination today. After that, he will take a final decision on his attempt to take part in the Gran Premio Movistar de Aragón.
The MotoGP megastar suffered an endurance training accident on August 31st. The initial examination was in "Ospedale Civile di Urbino". After that Rossi was transported to "Azienda Ospedaliero-Universitaria Ospedali Riuniti" in Ancona. The diagnose was displaced fractures of the tibia and fibula on his right leg.
The Italian rider received surgery upon arrival at the Ancona hospital – between 2am-3am on September 1st by Dr Raffaele Pascarella, Director of the Orthopedics and Traumatology Division. During the surgery doctor Pascarella fixated the fractures using a metal pin – a locked intramedullary nail – without any complications.
Later the same day Valentino issued a statement, saying he was very sorry for the incident.
"Now I want to be back on my bike as soon as possible. I will do my best to make it happen!", he added.
Rossi was discharged from the hospital on the next day. He missed the Misano Grand prix as it was only a week after the incident. Maverick Viñales was the only Yamaha factory team driver in the race. He took pole position but finished fourth on Sunday – behind Marc Marquez, Danilo Pettruci and Andrea Dovizioso.
A medical examination will determine if Rossi can take part in the Gran Premio de Aragón
Then the Yamaha team announced that Michael van der Mark will replace Rossi at Aragón. Still, the Italian rider wanted to try and get back at the circuit. So he decided to make a test. 17 days after the crash he made his first laps – on the Misano circuit. A weather change cut the session short and the evaluation of Rossi's physical condition was inconclusive. That is why he made a second practice.
During the two-hour private riding session, the nine-time World Champion was able to complete 20 laps in total. He wrapped up this second day of testing with an improved feeling and a more positive impression compared to Monday.
Now Valentino will undergo the medical examination, which will determine if he can compete at Aragón.
Grazie a tutti ?#GetWellSoonVale #TornaPresto#SanMarinoGP
? by @GoPro pic.twitter.com/kH1bpJgXAT

— FanClubValeRossi46 (@fanclubVR46) September 13, 2017