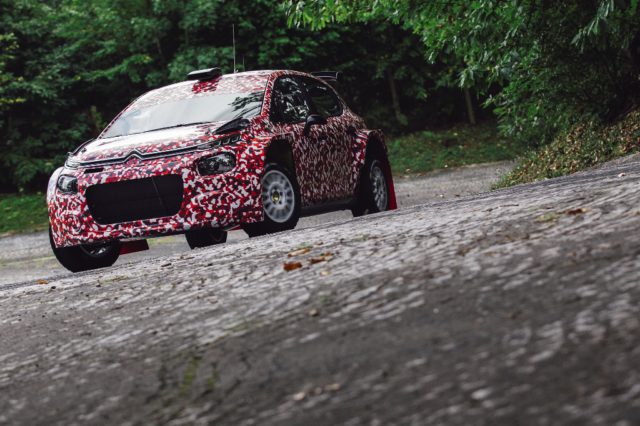 After a year of research, calculation and design work, Citroen Racing is holding the first development tests for the C3 R5 this week.
The Citroën C3 R5 aims to become the new benchmark in its category. It is an entirely new product intended for customer racing.
Since 2013, the R5 regulations devised by the FIA have led to the appearance of a new generation of rally cars. Designed for private teams and drivers, these reduced-cost products are often described as "mini-WRCs". They have four-wheel drive, 1.6-litre direct injection turbo engine generating about 280bhp, sequential semi-automatic gearbox, etc.
Say hello to #C3R5, the newborn of the C3 family! pic.twitter.com/jj6Po3ddXo

— Citroën Racing (@CitroenRacing) September 4, 2017
The success enjoyed by the category also comes down to its universal appeal. The R5s compete in the WRC 2, the ERC and in most of the national championships. The C3 R5 will shortly be ready for competitive action.
"We are reaching an important milestone this week with the first development tests of the car, which is already close to the finished product," explained Yves Matton, Citroen Racing Team Principal
"The specifications given to the technical teams are clear. We want the C3 R5 to set new standards in the category. In order to create an entirely new product, we used all of Citroen's experience in the WRC. Our works drivers will also be taking part in development of the car. Stéphane Lefebvre and Craig Breen are driving in this first session. Yoann Bonato, the current leader of the French Rally Championship, also takes part."
"Design work on the Citroen C3 R5 began about a year ago. Most of the mechanical components have been tested in real conditions. That was on test mules, driven since the start of 2017."
"For the first outing of the full car, we are already pretty close to the definition that will be offered to customers. The sessions are being held on gravel, on sufficiently varied road surfaces to test the car's robustness and begin fine-tuning the basic set-up," explained Pierre Budar, Development Director, Customer Racing Vehicles.
"There is a direct link between the C3 R5 and the C3 WRC: for example, the roll cage of the two cars was designed by the same engineer"
"Some solutions have been re-used, whilst adapting them to the constraints of the regulations and small-scale production. Similarly, the engine has been developed in-house. Its base is the unit of the production model. We have also chosen to work together with the best suppliers. Overall, we have an even, consistent product. And it is capable of meeting the goals of the customers that choose the Citroen C3 R5."
Following these first test sessions, Citroen will pursue development of the C3 R5 on both gravel and tarmac. Various drivers with different profiles will participate in order to achieve a genuinely versatile product. FIA homologation is scheduled for 2018.