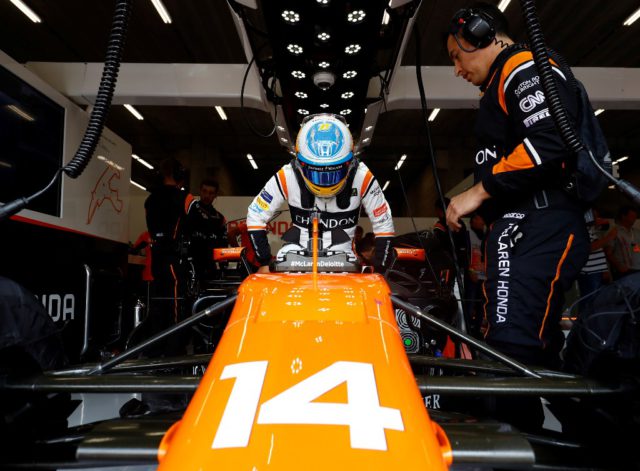 Fernando Alonso had an eventful weekend at the Spa-Francorchamps circuit, where he did not finish the race. The Italian Grand prix probably won't be easier. The Spaniard will get penalties for changed power unit elements
"Like Spa, Monza is one of those legendary tracks where everybody loves watching cars going racing. With the new wider, faster cars this year, it will definitely be another circuit where we'll see a new fastest lap and some incredibly high speeds on the straights", Alonso explained.
"It's the fastest circuit on the calendar in terms of outright speed. For a driver, it's an incredible feeling racing down those iconic straights punctuated by the tight chicanes and big, fast corners that require a huge amount of commitment. We've always said this circuit wouldn't suit our package. And we expect a tough challenge. Although it's power-hungry like Spa, it's also different in many ways. Spa is a long race. The Monza circuit is short and sharp and the race always feels like it's over very quickly."
"The thing I love most about Monza is the fans. Even when you're not dressed in tifosi red, the fans come out in force. They're all super passionate about racing and motorsport. The Italian Grand Prix is a favourite for many people and it really deserves its legendary reputation as a magic circuit for race fans."
Fernando Alonso: "The thing I love most about Monza is the fans"
Stoffel Vandoorne thinks that Monza is a really cool place.
"I've driven there in Formula Renault 3.5 and also in GP2, and I won there in both series, so I know the circuit well and have always really enjoyed racing there. The fans are great, they show a lot of passion, and you feel like you're swept up by their enthusiasm the whole weekend", the Belgian said.
"Spa was definitely a tough race for us. We've always identified Belgium and Italy as two difficult weekends for us. It was hard to manage our pace with the rest of the pack on the straights. We're preparing ourselves for the same thing at Monza. But, of course, we'll push hard every day throughout the weekend to try and give ourselves the best chance of a good result."
"As usual, the important thing is qualifying. But it's in the race where we need to work on our pace and make sure we can maintain our position throughout Sunday afternoon. We worked really well as a team in Spa. I hope we'll be able to do more of that this coming weekend."
MOST PODIUMS AT MONZA (current drivers)

6 ALO (? 2012)
5 VET, HAM
3 RAI, MAS
1 PER#ItalianGP ?? #F1 pic.twitter.com/djdf8kdRN7

— Formula 1 (@F1) August 29, 2017